Have you ever experienced using a tablet or smartphone while wearing gloves only to discover that the touch screen is unresponsive? This can be annoying, especially if you need to phone, chat, or use a navigation app when you're outside in the cold weather.
Fortunately, there are gloves specifically designed for a touchscreen that could be your solution. These gloves make a simple and useful item for anyone who lives in a cold area or appreciates outdoor activities because they allow you to use your gadgets without taking off your gloves.
Types of Gloves for Touch Screen Devices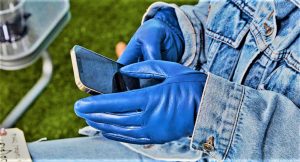 Conductive, capacitive, and hybrid gloves are the three basic categories of gloves for touchscreen devices. Each model enables touchscreen compatibility using a separate technology.
1. Conductive Gloves
The fingertips of conductive gloves are made of a particular material that conducts electricity, such as silver or copper. The touch screen registers your touch when you touch it because the energy from your fingers travels through the gloves. These gloves are often composed of thin, stretchy material, like nylon or spandex, and are frequently worn for tasks that call for accuracy, such as typing or playing video games.
2. Capacitive Gloves
Different technology is used by capacitive gloves to support touchscreen functionality. Because conventional gloves don't conduct electricity, they don't operate with touch displays because capacitive touch screens detect the electrical charge in your fingertips. Capacitive gloves address this issue by integrating conductive threads into the fabric of the gloves.
Your touch is registered on the touch screen thanks to the conductive channel that these threads create between your fingers and the surface. Capacitive gloves are frequently worn for outdoor activities in cold weather and are typically composed of a thicker, warmer material, such as wool or fleece.
3. Hybrid Gloves
Conductive and capacitive gloves are combined to create hybrid gloves. These gloves contain warmer, thicker material for usage outside and conductive fingers for precise use. Anyone who wants the best of both worlds—the ability to use a touchscreen device precisely and the insulation and protection of a thicker glove—should consider hybrid gloves.
How The Touch Screen Gloves Work
Touch screen gloves work using conductive threads or materials that permit electricity to travel through them. When you touch the screen, the conductive substance or threads convey the electrical charge from your fingers, allowing the touch screen to capture your touch. The method employed to convey the electrical charge will depend on the kind of touchscreen glove you select.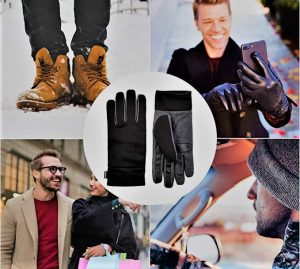 The fingertips of conductive gloves are made of a particular substance, such as silver or copper, which allows electricity to travel through them. The touch screen registers your touch when you touch it because the energy from your fingers travels through the gloves.
Conductive threads are embedded in the fabric of capacitive gloves, which is how they function. The electrical charge from your fingertips can pass through the gloves and detect your contact on the touch screen thanks to these threads, which form a conductive conduit between them and the touch screen.
For usage outdoors, hybrid gloves combine warmer, thicker fabrics with conductive threads or materials. In addition to having thicker material for warmth and protection, these gloves frequently incorporate conductive fingertips for fine control.
Top 8 Gloves For Touch Screen Devices Review
1. Isotoner Men's Tech Stretch Touchscreen 
Tired of taking off your gloves every time you need to use your phone in the winter? The Isotoner Men's Tech Stretch Touchscreen Texting Double-Lined Cold Weather Gloves are everything you need. These gloves will keep your hands toasty while letting you operate your touchscreen device easily.
The gloves' contoured spandex stretch technology is a trademark feature, allowing for unrestricted hand movement. The dual lining of Thermaflex insulation and stretch fleece gives warmth and a tailored fit. With the smart touch touchscreen technology included in the thumbs and index fingers, you can tap and swipe with ease and precision, all without removing your gloves.
These gloves include SmartDRI, an isotone's signature technology that repels water, in addition to keeping your hands toasty and connected. The gloves are adaptable enough to wear for any outdoor activity and feature a manly design that complements any outfit, yes, it's man's gloves. 
Those who have purchased these gloves have nothing but praise for their performance and convenience. They enjoy the gloves' warmth and water resistance and find it convenient because they don't have to take them off to use their gadgets.
Generally speaking, the Isotoner Men's Tech Stretch Touchscreen Texting Double-Lined Cold Weather Gloves are an absolute must for anyone who wants to keep their hands toasty and their devices charged throughout the winter. Their cutting-edge features and ergonomic construction make them popular for those who lead active, on-the-go lifestyles.
2. isotoner Women's Smart Touch Screen gloves
The Isotoner Women's Smart Touch Screen gloves will keep your hands toasty and your fingers connected through the coldest days of winter. These gloves are stylish and practical, making them ideal for active women.
The gloves' thumb and index finger are equipped with smart touch touchscreen technology for the precise operation of mobile devices. You can keep your hands toasty in the winter while tapping and swiping easily. These gloves are ideal for those with active lifestyles thanks to the stretch fleece material's contoured yet flexible fit and the palm strips' improved grip.
These gloves also feature SmartDRI technology, like the men's gloves, which repels water and snow to keep your hands dry, so you can stay connected and active even when it rains or snows outside. To ensure your hands don't get cold, they're lined with silky soft Microluxe.
These gloves are not only practical but also fashionable, thanks to their timeless style. They are ideal for a day at the office, a shopping trip, or a night out. The convenience of machine washing makes regular cleaning a breeze.
Customers who have bought these gloves have praised their comfort, warmth, and compatibility with various electronic devices. They like how the palm strips enhance grip and how effectively the technology prevents water from penetrating the glove.
Generally speaking, any woman who wants to keep warm and connected during the winter should get a pair of Isotoner Women's Smart Touch gloves. All events can benefit from its practicality, aesthetics, and comfort. More importantly, it stretches!
3. isotoner women's Spandex Cold Weather Stretch Gloves
Now that winter has arrived, it's important to protect your hands by wearing warm gloves. If you're on the hunt for a pair of gloves that won't slow you down no matter how active you are, look no further than the isotoner Women's Spandex Cold Weather Stretch Gloves that offer comfort and lightweight. 
The touchscreen gloves are made entirely of stretchy spandex, so they won't restrict your movements while still fitting snugly and comfortably. The inside is lined with soft stretch fleece for added warmth, making these gloves ideal for chilly days.
The vegan leather patches on the palm, thumb, pointer and middle fingers are a notable feature of these gloves. Whether you're holding a phone, carrying groceries, or driving, you'll have a firm grasp thanks to these patches. These gloves, however, are more than just practical; they also look very fashionable. The versatile, all-black design with stylish accents works well with casual or dressy attire.
Also, these gloves are treated with a special water-repellent technology, SmartDRI, that will keep your hands dry and protected even if you get caught in the rain or snow. The best way to clean them is to wash them in the washing machine and let them dry in the air.
Generally speaking, Isotoner's Women's Spandex Cold Weather Stretch Gloves are a great option for those searching for a fashionable, functional, and comfortable glove that can withstand the rigors of cold weather. It's touchscreen-capable and warm. 
4. isotoner Women's Spandex Shortie Touchscreen Gloves
Isotoner's Women's Spandex Shortie Touchscreen Gloves are another pair of gloves that are both practical and fashionable. These gloves will keep your hands toasty and dry, and they're touchscreen-compatible, of course. Rather than being as long as the previous gloves, this pair is cut shorter.
The gloves are imported and made of synthetic materials, guaranteeing their durability and quality. The pull-on style closure makes it simple to put on and take off and also ensures a secure fit. The gloves are waterproof thanks to cutting-edge SmartDri technology.
These gloves are not only waterproof but also compatible with touchscreen devices, so you can use your phone or tablet without removing them. The synthetic leather palm and finger patches offer a superior grip to prevent accidental drops.
The chevron patterning on the gloves is another stylish touch contributing to their sophisticated overall design. Because they are unlined, you can use them without feeling like your hands are confined.
Generally speaking, The Isotoner Women's Spandex Shortie Touchscreen Gloves are essential for those who value connectivity and warmth throughout the colder months. You can wear them confidently, knowing that they will keep you most comfortable while also complementing your outfit with a touch of class. These gloves will keep your hands toasty, dry, and wired no matter how far you walk, how many errands you run, or how far you travel to get to work.
5. isotoner Women's Spandex Touchscreen Cold Weather Gloves
The isotoner Women's Spandex Touchscreen Cold Weather Gloves are the perfect choice if you need a pair of gloves that can do it all: keep your hands warm and dry without sacrificing access to your touchscreen devices.
The SmarTouch technology embedded in the gloves' thumb and fingers is one of their most notable features, allowing for the dexterous operation of touchscreen devices such as smartphones and tablets. In the colder months, once you don't want to leave your hands out in the cold for any longer than necessary, this comes in especially handy.
These gloves are perfect for on-the-go use due to the snug yet flexible fit of the isotoner's heritage 4-way stretch spandex material and the grip-enhancing palm strips. Thanks to SmartDRI technology, your hands will not get wet even if it rains or snows.
In addition to their practicality, these gloves are also quite fashionable. They have a timeless and refined appearance thanks to their simple black design, faux leather patches, and cool chevron detailing. Plus, these gloves are machine washable and dryable, so maintenance is a breeze. If you want to stay toasty, dry, and connected this winter, then this pair of gloves would be a great option.
6. Carhartt Men's C-Touch Work Glove
A decent pair of gloves that can keep your hands warm and protected is essential whether you work outside or spend much time in the cold. The Carhartt Men's C-Touch Work Glove is ideal for this purpose with an extra essential feature: the touchscreen capability.
The Wind Fighter technology used in constructing these gloves ensures that your hands will stay toasty warm even on the windiest days. The microfiber inside and windproof, one-sided fleece fabric are great for keeping the chill at bay.
The palm and thumb reinforcement, however, are touchscreen-compatible, making these gloves stand out. They are ideal for people who need to use their devices while working or playing in outdoors without having to remove their gloves. Further durability is provided by the palm and thumb reinforcement so that these gloves will last you for many seasons.
The gloves' rib-knit cuff ensures they won't slip off, and the pull-on design makes them convenient to put on and take off. In addition, you can simply wash them in the sink if they get dirty, so maintenance wouldn't be a problem.
If you're in the market for touchscreen gloves that will withstand rough treatment on the job yet still allow you to use your touchscreen devices, go no further than the Carhartt Men's C-Touch Work Glove. It has the durability, functionality, and comfort you need.
7. Timberland men Magic Glove
This winter, ensure you're prepared with the Timberland Men's Magic Glove. These gloves are both fashionable and functional, as they are fully made of soft acrylic and will keep your hands warm. Comfortable all-day wear is guaranteed with the one-size-fits-most design, breathable knit fabric, and elastic ribbed cuff.
Furthermore, offering warmth and comfort, these gloves can be worn in different climates. You can wear them to the office or on a ski trip or a winter hike. These are a stylish addition to both business attire and everyday winter wear.
As the gloves are touchscreen compatible, you won't even have to take them off to use your phone, tablet, or smartwatch, even in the cold winter. Touchscreen compatibility in the thumb and index finger facilitates keeping in touch and using digital devices while keeping hands toasty.
Every member of your family or circle of friends would appreciate receiving the Timberland Men's Magic Glove as a present. These are perfect for giving on any special occasion, including birthdays, anniversaries, Thanksgiving, Christmas, New Year's, Valentine's Day, and more.
Final Thoughts: The Timberland Men's Magic Glove is an essential wintertime glove. These gloves offer warmth and comfort and can be worn with different styles of outfits. These touchscreen gloves will keep your hands toasty and allow them to access your smartphone without problems. 
8. ViGrace Winter Touchscreen Gloves
The ViGrace Winter Touchscreen Gloves are an excellent option if you need a pair of gloves that will keep your hands toasty without requiring you to remove them. These gloves are soft, warm, and lightweight since they are made from a blend of 90% acrylic, 5% polyester, and 5% spandex.
Because of their gender-neutral construction, the ViGrace gloves can be worn by men and women A total of eight distinct hues are available, allowing you to pick the one that best complements your personal taste. Because knit fabric is elastic in four directions, they conform snugly to your hands. The snow and wind are kept out by the strong elastic wrist cuff that keeps the gloves in place.
Thanks to the conductive fabric on the thumbs, forefingers, and middle fingers, you can use your touchscreen devices without taking off these gloves. You can use your smartphone, tablet, or other touchscreen gadgets without risking frostbite by keeping your hands inside. Just make sure your fingertips are touching the gloves for optimal performance.
The ViGrace gloves are insulated with napping wool to keep your hands toasty even in subzero temperatures. Moreover, the anti-slip gel pattern on the palms improves your hold on your phone or other electronic devices.
Taken as a whole, the ViGrace Winter Touchscreen Gloves are a fantastic choice for anyone in the market for a pair of gloves that excels in all three of these categories. These are great for outdoor activities like cycling, running, or driving and would make a thoughtful present for friends and family. These gloves should be washed by hand in cold water and handled with care.
Factors to Consider When Choosing Touch Screen Gloves
There are a number of things to consider when purchasing touchscreen gloves to ensure you acquire the right pair for your requirements.
1. Fit and Size
Your touchscreen gloves' effectiveness and comfort depend on how well and big they fit. They may limit your movement if they are too loose, and if they are too tight, they may hurt or reduce blood flow.
Make sure to measure your hand before choosing gloves to compare the size to the manufacturer's sizing chart. One-size-fits-all gloves can have a practical design, but they might only fit a range of sizes perfectly. Try the gloves on to guarantee a good fit and comfortable feel.
2. Material
The comfort and longevity of the gloves can be considerably impacted by their material. Wool, fleece, and synthetic textiles like spandex or acrylic are the most typical materials used to make touchscreen gloves.
The warmest and best insulating gloves are made of wool, although they can be heavy and clumsy. Although lightweight and breathable, fleece may not provide much wind protection, making it appropriate for milder climates. Although lightweight and stretchy synthetic materials like spandex and acrylic offer a close fit and excellent dexterity, they can not be as warm as wool or fleece.
Although other materials like leather and neoprene can offer excellent weather protection, they might not work with touch displays. Choose a material that meets your unique demands by keeping in mind that some materials may be more water-resistant or durable than others.
3. Touch Screen Compatibility
While selecting touchscreen gloves, compatibility with your smartphone should be your top priority. Certain gloves are more sensitive than others; not all gloves are compatible with all touch displays. It's crucial to make sure touchscreen gloves work with your smartphone before making a purchase. With most smartphones, tablets, and other electronic devices, touchscreen gloves are compatible; however, some models or brands may not be supported.
It's critical to read the gloves' specifications before selecting them to ensure they will function with your device. Certain touchscreen technologies, such as resistive or capacitive panels, are compatible with some gloves. The majority of touchscreen gloves are made to function with capacitive touch screens, which are the most popular variety. Certain gloves, however, might not function properly on older or less sensitive capacitive screens.
4. General Features
While selecting touchscreen gloves, there are a number of important factors to take into account in addition to touchscreen compatibility. The gloves may be more durable, comfy, and functional as a result of these attributes.
Grip: A touchscreen glove's grip is crucial since it can help you use your device safely by preventing drops and slippage. Your grip can be improved by using gloves that have unique grip patterns or materials, such as silicone or rubber.
Warmth: Temperature is another crucial factor, particularly if you intend to use your touchscreen gloves in chilly conditions. Look for gloves lined with a warm material, such as fleece or wool, or insulated gloves.
Water Resistance: Another aspect to consider is water resistance if you intend to use your touchscreen gloves in icy or rainy weather. Gore-Tex and other water-resistant fabrics are used in some gloves, which can help keep your hands dry and comfortable.
Pros and Cons of Different Types of Touch Screen Gloves
Touchscreen gloves come in various styles, each with unique benefits and drawbacks. The most typical kinds of touchscreen gloves, along with each one's benefits and drawbacks, are listed below:
Conductive Gloves
A conductive material, like copper or silver, is used to create conductive gloves, which enable touchscreen interaction. These gloves are available at most electronics outlets and are frequently less priced than other kinds of touchscreen gloves.
Pros
Widely available in the market

Affordable

Practical, simple to use 
Cons
May not be universally compatible with all touchscreens

less sensitive than capacitive touchscreen gloves

can be subject to corrosion
When to use conductive gloves
If you're on a tight budget or only sometimes need to utilize touchscreen gloves, conductive gloves could be a smart choice. If you have an outdated or less sensitive touchscreen gadget, they are also a wise alternative.
Capacitive Gloves
A unique conductive substance is used to create capacitive gloves, simulating the conductive capabilities of human skin. This makes it possible for users to operate touch screens much like they would with their own hands. Although more expensive than conductive gloves, capacitive gloves are more sensitive and accurate.
Pros
sensitivity greater than conductive gloves

resemble the characteristics of human skin

Excellent for precision work like typing or painting. 
Cons
Generally pricey compared to conductive gloves

perhaps not universally compatible with all touchscreens

Perhaps less durable than other touchscreen glove types
When to use capacitive gloves
If you need to use your touch screen devices for precise operations, like typing or drawing, capacitive gloves are a fantastic solution. If you have a more recent or delicate touchscreen gadget, they are also a wise alternative.
Hybrid Gloves
As the name implies, hybrid gloves combine capacitive and conductive materials. The index and thumb of these gloves often include conductive fingertips that enable touch screen operation, while the other fingers are insulated for warmth. When it's cold outside, and you need to use your gadgets regularly, hybrid gloves are a wonderful option. They also provide you the freedom to use your other fingers for things that don't need to use a touch screen.
Pros
More flexibility in terms of touchscreen and non-touchscreen usage

available in different materials for varying degrees of warmth and durability

More versatile
Cons
Less accurate than conductive or capacitive gloves for touch screens.

Warm but they may be warmer than completely insulated gloves.
When to use hybrid gloves
Hybrid gloves are a smart solution for people who frequently use touch screens in cold weather and also need to complete jobs that don't require touch screens. Also, they are a smart alternative for individuals who wish to use all of their fingers while keeping the rest of their hands warm. Hybrid gloves are a decent choice for people who want a versatile solution but don't want to spend money on several different types of gloves.
How to Care for Touch Screen Gloves
Proper care and maintenance can help extend the life of your touchscreen gloves. However, since touch-screen gloves are specialty ones, cleaning and caring could be slightly different than generic gloves. Here are some tips to keep in mind:
Read the maintenance or caring label before washing your gloves. Different gloves may require different washing methods, so it is important to follow the manufacturer's instructions.

Avoid washing your gloves in hot water or drying them in a dryer. High heat can damage the conductive materials in the gloves, which could impact their touchscreen compatibility.

Whenever possible, hand wash your gloves in cool or lukewarm water using a mild detergent. Gently squeeze out excess water and lay the gloves flat to air dry.

Avoid using fabric softeners, bleach, or harsh detergents, as these can damage the gloves.

Store your gloves in a cool, dry place when not in use. Avoid storing them in direct sunlight or places with high heat, as this can also damage the conductive materials.

Taking good care of your touchscreen gloves can help ensure their longevity and maintain their touchscreen compatibility.
Frequently Asked Questions
How can I ensure a proper fit when purchasing touchscreen gloves?
To ensure a proper fit, it's important to know how to measure gloves with size chart. Start by measuring your hand and comparing the measurements to the sizing chart provided by the manufacturer. This will help you determine the correct size to purchase and ensure that the gloves fit comfortably and correctly. Some gloves also come with adjustable elements like wristbands that can help facilitate a more customized fit.
Can I use any gloves with touch screens?
Actually, no, not every pair of gloves can be used with a touchscreen. Regular gloves' lack of conductive elements may prevent them from functioning with touch screens.
How do they make gloves touchscreen compatible?
If you're tired of taking off your gloves every time you need to use your smartphone, tablet, or other touch screen device, there is a solution to your problem. With the rise of touchscreen technology, it's essential to have gloves that can keep your hands warm and allow you to stay connected at the same time.
One way to make gloves touchscreen compatible is by using conductive coatings or threads. By coating the fingertips of your gloves with conductive materials or knitting them with conductive threads, you can enjoy the convenience of using your touch screen devices without having to expose your hands to the cold. So, make gloves touchscreen compatible and stay connected while keeping warm all winter long!
Can I still use my touchscreen device without gloves?
Although using a touchscreen device without gloves is possible, doing so in wet or freezing conditions may be more challenging. Gloves compatible with touch screens make using your device much more convenient and pleasant.
Are touch screen gloves waterproof?
There are water-resistant touchscreen gloves, however, not all of them are completely waterproof. Before buying, make sure the gloves are a good fit by consulting the manufacturer's details of the gloves' specifications.
Conclusion 
To use a touchscreen device more comfortably when it's chilly or your hands are wet, consider investing in a pair of touchscreen gloves. Touchscreen gloves come in various styles, each with its own advantages and disadvantages. You may get the perfect pair of gloves for your needs and tastes by thinking about factors like size and fit, material, touchscreen compatibility, and features like grip and warmth.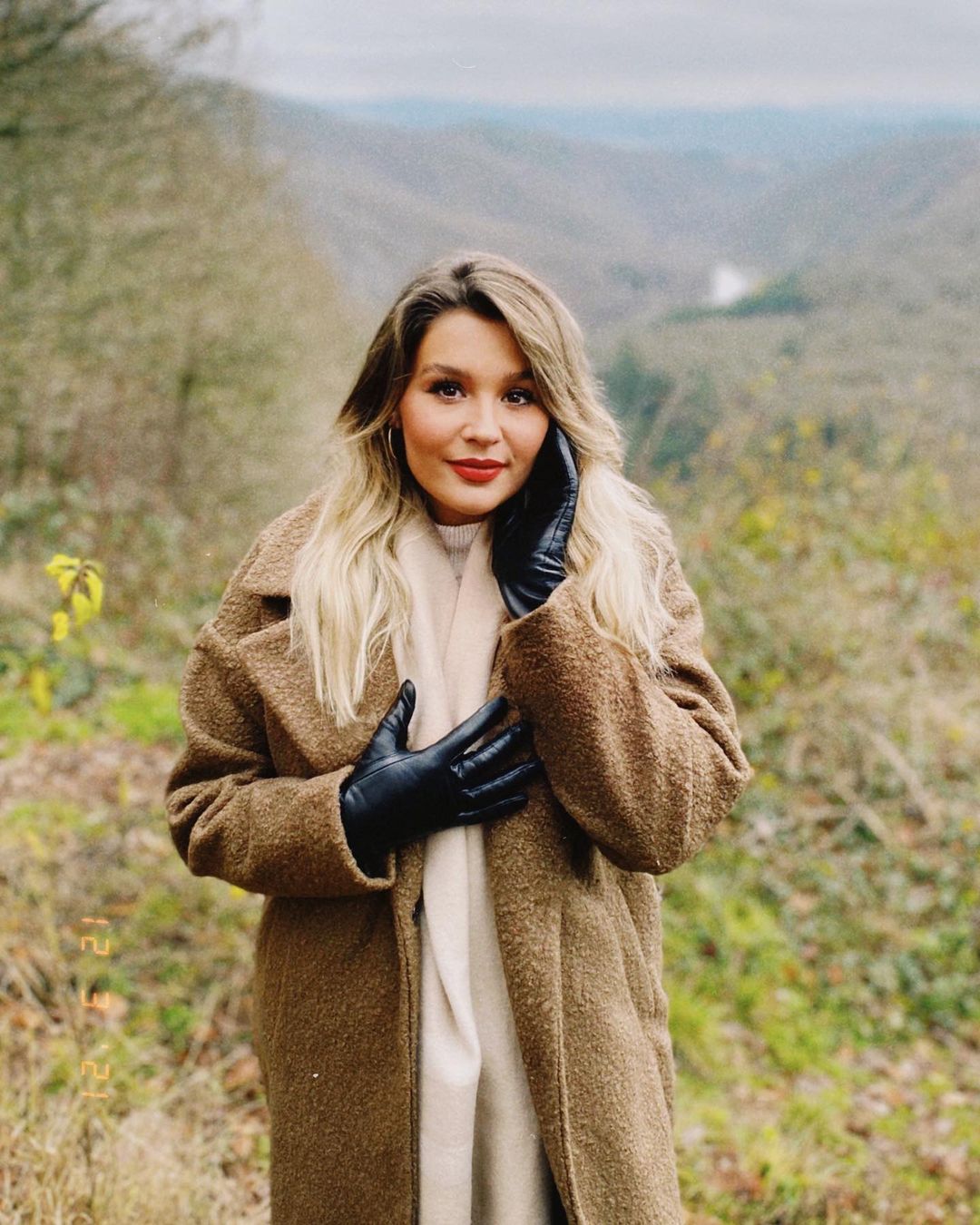 I am not a good blogger but I started blogging when I was in my college. one day scrolling my social media pages and top of the page one notification was coming like this " earn money from blogging".then I clicked that notification. After that, I was confused that which niche is better for me. Finally, I selected the niche and I was comfortable with that glove's reviewer.