Your 7 or 8-year-old kids are showing interest in baseball and you want to support them? It always starts with a good baseball glove choice. The size choice of baseball gloves is very critical because it affects both performance and safety. You need the best baseball gloves for 7 year olds instead of using adult gloves. However, with various products out there, it could be tricky to choose one. We've reviewed some best baseball gloves for 8 years olds below along with a buying guide and other information to shop for one.
7 Best Baseball Gloves For 7/8-Year-Olds Review
1. Rawlings Players Glove Series
Rawlings Players Glove Series is a right-hand throw glove series for youth. With complete youth age support, the series is ideal for players who want to start playing baseball from the very beginning. The glove series also provides easy catching and works perfectly as utility gloves.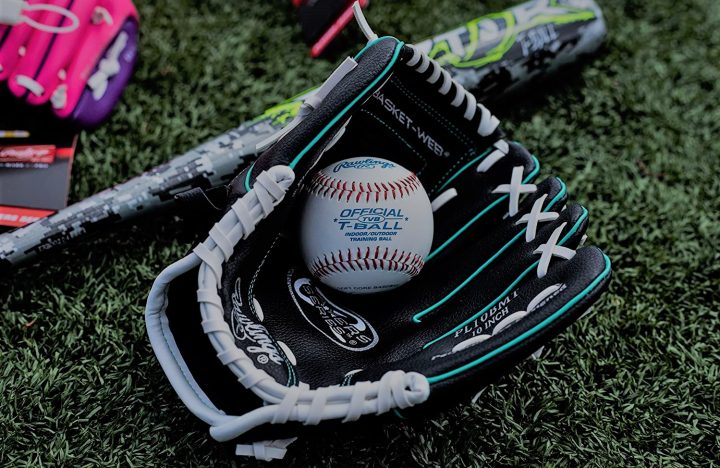 Complete Youth Support
The series has three different sizes that cover three major youth age groups including 3-5, 5-7. and 7-9 with the size of 9 inches, 10 inches, and 11.5 inches. It allows youth T Ball and baseball players to start playing at earlier ages and to obtain a consistent quality of gloves as they grow.
Easy Catching
Players Glove series come with soft and flexible materials both for the lining and shell. It allows youth players to throw the ball more easily and consistently. This also reduces the chances of being injured from the impacts.
Ultimate Utility Gloves
As for defensive play fundamentals, the Players Glove series has everything youth players need for their basic learning. Even three years old can use the 9-inch gloves and start throwing.
Pros
Utility Gloves
Complete Youth Age Coverage
Youth-friendly materials
Various color options
Easy catching
Velcro straps
Vinyl glove, no need oiling
Cons
2. Franklin Sports Teeball Glove and Ball
It's a great deal to have baseball included in the glove package and that's exactly what Franklin Sports Teeball Glove and Ball offers. With the price below $20, you already get both the glove and foam baseball. However, it's mainly about the glove, right? Meshtek Tee Ball glove is 9.5inch and made from synthetic leather. Generally speaking, it's a standard starter pack for youth baseball experience but let's have a look deeper.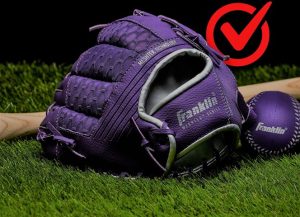 Youth-Specific Construction
The glove is certainly constructed for younger players from the material to the design. It is a soft mesh construction that provides lightweight and easiness for a young player. Soft palm construction also provides comfortable overall experiences when dealing with the ball.
Comfortable Fit
Unlike generic gloves, this Teeball glove is designed with a hand-formed pocket where it traces the counters of young players' hands. The result is that wearers can experience a comfortable fit.
The Soft Palm Included
Soft palm is essential when it comes to youth baseball gloves. This Tee Ball glove already includes the soft palm allowing your kids to straightforwardly play the game without hassles or risking their hands of being injured.
Pros
Lightweight
Cute design
Soft palm included
Tee Ball for all positions
No break-in required
Affordable
Cons
Some shipping issues(wrong items)
3. Rawlings Sure Catch Glove Series
Rawlings has an extensive range of baseball gloves. If you're specifically looking for a youth catch glove, Rawling has a series that covers most youth sizes and different variants for youth players aged four to ten. It's generally a considerable product for kids who want to learn baseball at an earlier age.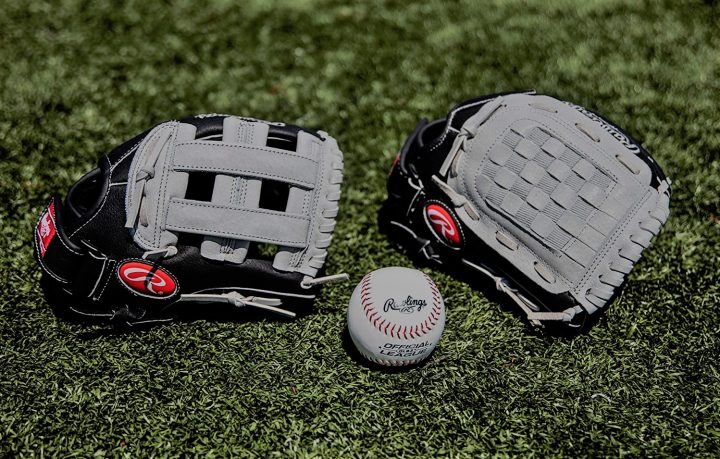 Utility Glove Design
Rawlings Sure Catch Glove Series is another synthetic T-Ball and youth Baseball glove. It provides a ready-to-play feeling which is important if your kids are seriously playing the game. Whatever the position, the young players would be comfortable using this glove.
Sure Catch Technology
It has distinctive technology that allows sure catch performance for the players. These allow you kids to play the game straightforwardly after putting on the glove without too much setup even though some adjustments are possible referring to the break-in design. The major setup is already done and fixed by the manufacturer.
Ground and Up
The gloves come with basket web patterns and include a soft shell that allows young players to easily catch the floating and scoop the grounded balls. That also confirms the glove's utility function for sure.
Pros
Great scoop and catch
Engineered design for comfort and performance
Utility glove construction
Youth size coverage
Break-in, ready-to-play
Comfortable fit
Cons
Less healthy materials
No ball included
4. Rawlings Remix Glove Series
Another Rawlings product in this list is the Remix Glove series which are T-Ball and Youth Baseball gloves from the size 9inch – 10.5 inch. The infield gloves are designed for younger players for different positions but are more advantageous for learning the basics of the game.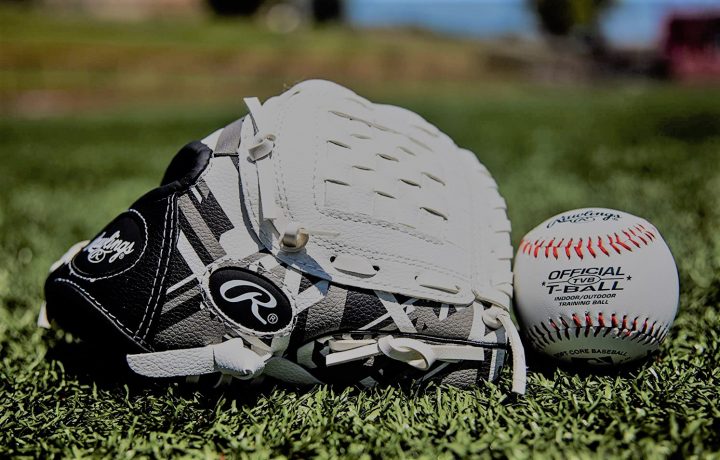 Young-Player Friendly
Remix Glove series have every young player need to start their game in the field. It has a lightweight construction so it provides flexibility for both learning and practicing experiences. This allows them to better their comprehension of the fundamentals.
Striking Design
Appearance is something that's usually missed in kids' gloves but this series is different. It comes with stylish, striking designs that make young players more confident in the field. Variants are available but a combination of black, white, and silver metallic colors.
Ready-to-play Construction
Like previous models, this series is a ready-to-play glove with a soft shell and basket-web pattern. It means that the material and design are what they should be in the game so the gap between practising and playing experiences are significantly reduced.
Pros
Utility design
All position
Striking design
Lightweight
Infield feeling
Cons
Vinyl, not synthetic leather
Durability issues
5. Rawlings Sure Catch Glove Series
Rawlings Sure Catch Glove Series are literally sure catch options you can consider in this list. The T-Ball and youth baseball infield gloves come with leather construction and utility design while catering to players aged four to 10. Their Sure Catch technology is definitely the prominent feature of these gloves.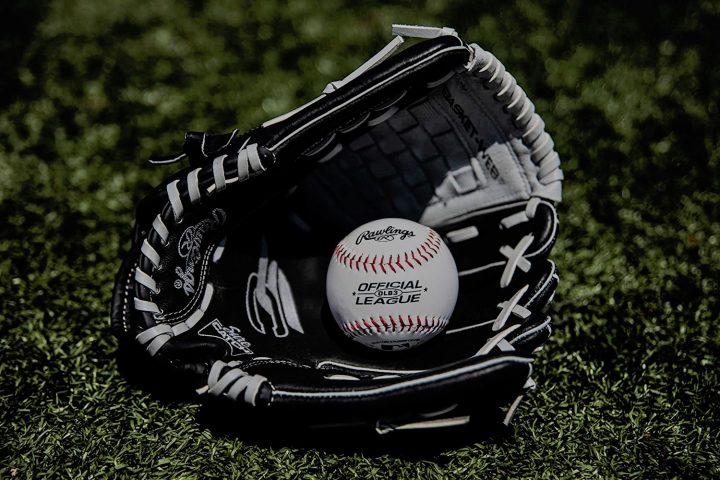 Utility Athlete Design
The leather-based glove has an athlete-grade utility design with H-Web construction that provides game-ready experiences. It allows young players to obtain real-game touch performance with the overall design. Moreover, it's specifically crafted for younger players aged four to ten.
Ultimate SureCatch Technology
Sure Catch Technology is an absolute beast in this glove category. The application is perfectly suitable for entry-level players who are comprehending the fundamentals. It's the advanced  break-in tech where players can straightforwardly use the glove right after wearing it.
Ultimate Readiness
With athlete design in mind, the manufacturer secured 90% of break-ins that support direct use of the gloves. No more setup but slight adjustments are still possible that make them a killer combination. As for youth gloves, these features are exceptional.
Pros
Leather material
Exclusive
Sure Catch tech
Break-in design, ready to play
Utility glove, any position
Rigid construction but still youth-friendly
Cons
6. Mizuno Prospect PowerClose
Mizuno is undoubtedly one of the most respected sports brands in the world so it's not surprising if it has youth glove line production. Prospect PowerClose Youth Baseball Glove series is pigskin-leather gloves with great details. It's more amazing considering they're designed for young players.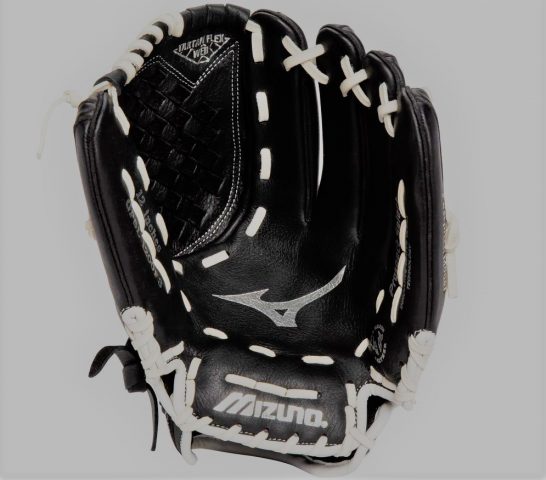 PowerClose Technology
PowerClose Technology is specifically designed for first gloves. Not only that it allows easy catches, but Mizuno gloves with this stamp are also the perfect pocket that trains beginner players how to catch.
Durable and Comfortable
Mizuno uses high-quality PU that can stand more games. The soft finishing is essential to provide young players with more accessibility and comforts when using the gloves. Young players can avoid hurts or scratches thanks to the soft material and engineered construction.
Ortholite Palm Pad
The technology is called a Parashock palm pad that works significantly to reduce ball impacts. It's certainly both a safety and comfort feature that every young player can benefit from. It plays crucial protection against the most hazardous factor in a baseball game: ball impacts.
Pros
High-quality material
Soft and comfortable
Engineered design for better accuracy and performance
Pro-designed
Filled with techs for young players
Utility model
Cons
7. EASTON TOURNAMENT ELITE Baseball Glove Series
EASTON TOURNAMENT ELITE could have been the most intriguing baseball glove design in this list. Coming in the size of 11.5inch, the gloves are the cutting-edge product for young 14U players. It offers some advantages for serious young players if they want truly reliable baseball gloves.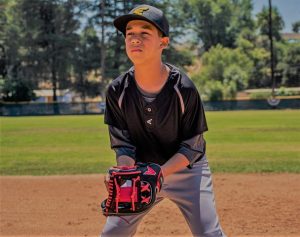 Game-ready
EASTON TOURNAMENT ELITE gloves are designed as game-ready artillery. What's better than gloves than the ones that your kids would actually use in the game? That's exactly the point. Serious young players need serious gloves.
Cowhide Leather Construction
The manufacturer uses cowhide leather for the shell and the palm lining. As for the shell construction, the material allows a more durable and solid structure. It provides more comfort for players' hands when installed in the palm lining.
Two-Hand Orientation Available
EASTON TOURNAMENT ELITE gloves are available in left-hand orientation and right-hand orientation. These allow all young players to use reliable gloves regardless of their hand orientation. Many products available in the market don't have left-hand orientation but Easton confidently does.
Pros
Game-ready gloves
Soft leather construction
Engineered design
Pro-grade structure and rawhide Lace
Right and left-hand orientations are available
Cons
A slightly stiff due to cowhide leather
Smaller sizes aren't available
Long break-in time
How To Choose the Best Baseball Gloves for ⅞-Year-Olds
Shopping for the best baseball gloves for 8 year olds could be tricky with many products available on the market. Just like other products, these baseball gloves have some differences. We've summarized some factors you should consider when shopping for the product below.
Size Chart
Before purchasing a baseball glove, it's a good idea to think about its dimensions and weight. Putting the glove on and seeing if it fits is fine if you're purchasing from an online store. Make sure it's comfortable to wear and that it's the right size at least based on the chart.
Hand Orientation
You need to know which hand is used for the majority of the ball-throwing or simply called hand orientation. There are two types of throwing gloves: one for right-handed throwers and one for left-handed throwers. First and foremost, you must take into account this element.
Material and Construction
Diverse materials like leather, synthetic leather, mesh, and others can be used in the production of baseball gloves. Most baseball gloves for older children and adults are made of leather or leather that has been treated, but this may not be the best choice for your eight-year-old. For the simple reason, that leather is so hard to break in, leather is the most popular choice for shoes because of this. As a result, it is not suitable for younger children.
A glove made of synthetic leather or mesh material could be an on-the-go solution. Despite the fact that these materials aren't the most durable, they're lightweight and improve your child's ability to control the ball during a game.
Break-in Easiness
Another factor to consider is how long it takes to break in a glove. If you're looking for youth baseball gloves, you'll want to look for something that's simple to break in. Since these gloves are typically designed for children, the top manufacturers usually use soft materials that don't require as much time to break-in. Any hard leather baseball glove should be better avoided.
Wrist Adjustability
It's also important to think about how well the gloves would fit your kids' hands before you buy them. Your child's grip can be tightened or loosened as necessary if you purchase a product that includes an adjustable wrist strap.
Palm Padding Material and Construction
The best time to appreciate the importance of the padding element is when you're standing infield and trying to catch a line drive. Shock is inevitable, but padding reduces it to a bare minimum. Get a baseball glove with enough padding to reduce the rebound impacts and shocks when catching the ball.
Position of The Young Players Will Play
Even if you don't think this is a big deal because you are dealing with children, you should still think about what role your child will play in the game. Will they be the pitcher or the catcher and will they be in the outfield or infield? A good set of baseball mitts is critical, especially if your child plans to play catcher.
Budgeting and Pricing
Last but not least, you'd need to find a product with a price tag that works on your budget. You must start with a base price when pricing anything and baseball gloves aren't exceptions. Keep in mind that high-quality youth baseball gloves for 7 or 8 year-olds will set you back at least $20. By investing in high-quality gear, you can be sure that your purchase will last a long time.
Baseball Gloves Size
When it comes to Baseball Glove size for 7 and 8 years, it would majorly depend on their position and hand fitness. Please check the table below as a reference for choosing gloves for 7-8 years old.
| | | |
| --- | --- | --- |
| Position | 7 Years Old | 8 Years Old |
| Third Base | 9 to 11.5 inches | 10.5 to 11.5 inches |
| Outfield | 9 to 12 inches | 10.5 to 12 inches |
| Pitcher | 9 to 11 inches | 10.5 to 11.5 inches |
| Second base |  9 to 11.25 inches | 10.5 to 11.25 inches |
| First Base | 9 inches | 11.5 to 12 inches |
| Shortstop | 9 to 11.25 inches | 10.5 to 11.25 inches |
| Catcher's Mitt | 29.5 to 30 inches | 30 to 31 inches |
Youth Vs. Adult Baseball Gloves
Some people find it difficult to tell the difference between youth and adult baseball gloves. It's understandable because they just look similar if not the same. However, if you know how to spot the differences, you can tell the two apart very clearly. Baseball gloves for young players are specifically and technically designed by sports gear manufacturers for their proper use. Never use adult gloves on young players.
These companies prefer to use light materials like synthetic leather or mesh to make youth baseball gloves to provide better ventilation and lighter weight. Adult gloves, on the other hand, are made from solid leather with overall heavier construction.
Kids will be able to break in the glove with greater ease and control as a result of this modification and engineered design. The fingers on children's baseball gloves are typically narrower to achieve proper proportion. That's because they've been designed for children ages 10 and under. These youth gloves are wearable until the age of 12-13 for the younger players.
It should be noted that most children's baseball gloves are only good for two seasons at most. Adult-specific baseball gloves, on the other hand, are more durable due to their more meticulous construction.
Care and Maintenance
Youth Baseball gloves aren't difficult to maintain but they definitely need ones. It can slightly extend or optimize the lifespan. While it won't last forever, you want the best baseball gloves for 8 year olds to be the best value for your money, right? The maintenance is majorly about the use of conditioner and keeping tracking the condition of the glove before you need to buy another one for the young players.
Using a glove conditioner four times a season will keep the leather material gently moist and keep your glove clean all season long. It is impossible to soften leather gloves with hand conditioners. The leather softens when you catch a baseball or use a mallet.
You need to treat it with a glove conditioner to extend the life of the glove. A wide range of glove conditioners is available. Find the ones that work well on any glove, old or new. For the most part, these gloves will only be used only for some period of time. There is no benefit to spending more money on a product. We're aiming for usability and security here. Safe, functional, and appropriately sized equipment will improve your players' enjoyment of the game.
FAQ
1. How do I choose a baseball glove for my child?
It's very important to get the T-Ball or baseball glove that isn't too tight around your kids' wrist, and that comfortably fits the palm of their not-throwing hand. Make sure the t-ball player squeezes the glove to make sure it closes properly or not. Checking the size chart is also very important but you'd also learn from the experience if you buy your product online.
2. What is the difference between a baseball mitt and glove?
Gloves have fingers, whereas mitts don't and this is the primary and straightforward difference between the two gears. If you're looking to control short hops and/or ground balls, you'll benefit from using a mitt. Mitts can only be used at first base and catcher in the game. However, there are also utility gloves that might go somewhere between the two gears. .
3. How do you size a youth glove?
With a tape measure, take a measurement around the widest part of your kid's hand palm just the opposite side of the knuckle using the tape. This number can be used to determine your glove size typically in inches. Check the size chart provided by the manufacturer and find the best suitable size of gloves for your kids.
4. How long should a baseball glove last?
Most youth baseball gloves are made from mesh or synthetic leather so they won't last forever. When shopping for a glove, be sure to look for one that has fit size while simple to break in. To be on the safe side, these gloves should typically last for two seasons top while leather gloves might last longer.
Final Words
We've seen reviews of some best baseball gloves for 7 year olds that you can choose for young players in your family. Among factors to consider when shopping for the product, the measurement and position are the most determinant ones. After that, you can check the material, construction, design, and other factors. Generally speaking, the fit and lightweight gloves are more recommended except the players have their own preferences. Last but not least, the gloves must fit their hands and your budget for sure.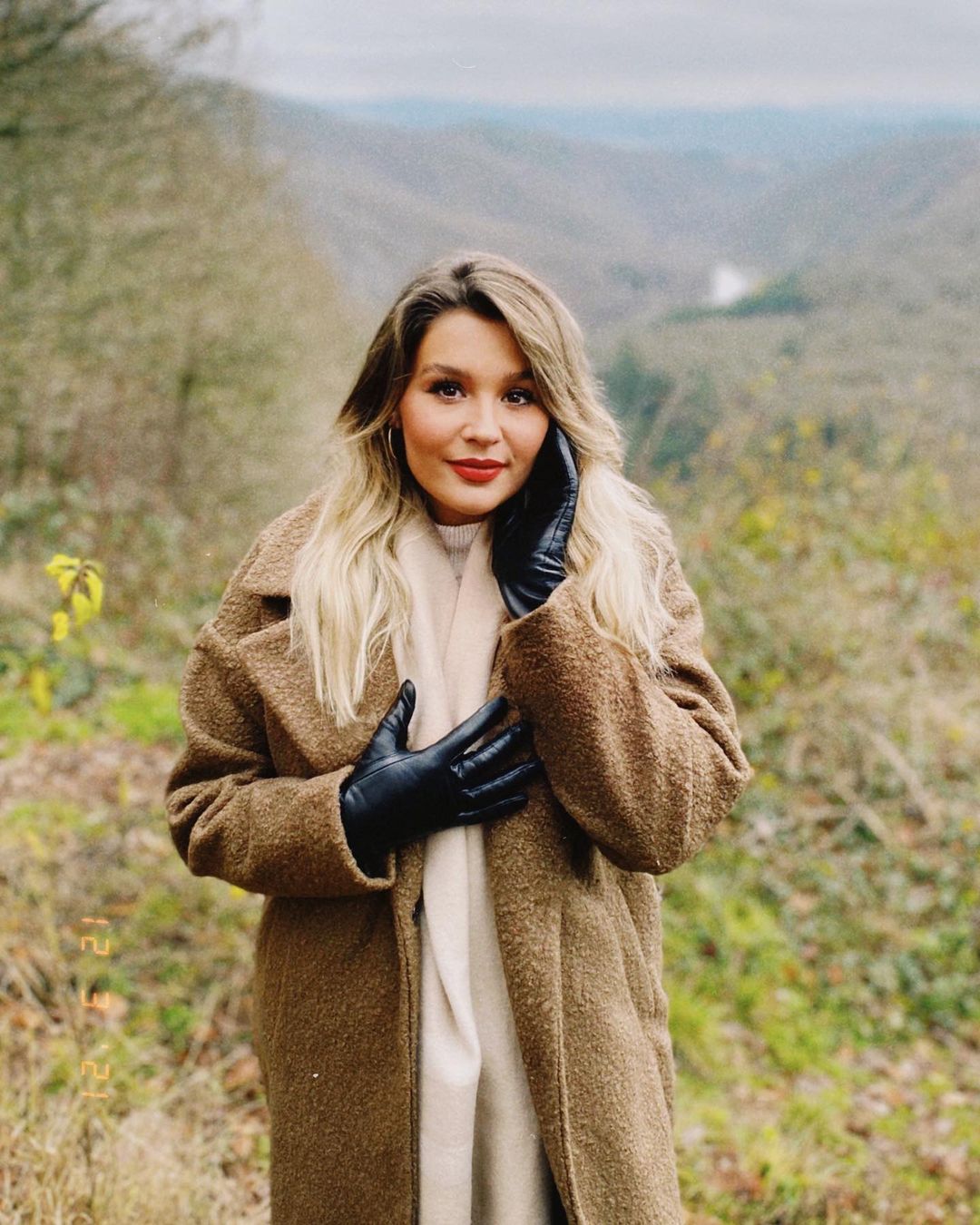 I am not a good blogger but I started blogging when I was in my college. one day scrolling my social media pages and top of the page one notification was coming like this " earn money from blogging".then I clicked that notification. After that, I was confused that which niche is better for me. Finally, I selected the niche and I was comfortable with that glove's reviewer.