Using gloves for the handling boxes might appear to be slightly too much for most people out there. While that is true when it comes to moving just a couple of boxes, it can be very important for anybody working in the materials handling industry to have the best gloves for handling boxes.
Why Box Handling Gloves Are Needed?
Having a proper pair of gloves in hand can make it easier to handle heavy packages. Proper gloves can be very useful for keeping the hands safe for any box handler in the materials handling industry.
At any courier sorting center, an average package handler needs to move about 200 – 1000 packages at least – that is an hourly estimate. There could be dangerous chemicals, body fluid residues, or a sharp splinter or two in any of the packages.
This is exactly why a suitable pair of best gloves for handling cardboard boxes is needed.
Top 6 Box Handling Gloves Reviews
When it comes to boxing handling gloves, here are some of the top ones that you can choose from.
1. Maxiflex 34-874 Ultimate Nitrile Grip Work Gloves
It comes from the famous brand Maxiflex, which is known for the production of very dexterous work gloves – meant to be used for light applications.
This is the most premium model in the brand's product lineup and boasts of various important features that can be useful for workers in warehouses and courier companies.
It has a nitrile palm coating that offers a fantastic grip. There is a textured coating which increases the nitrile coating surface area, to ensure better grip. However, the gloves are not touchscreen compatible.
The gloves used are amazing in resistance which makes them appropriate for light-duty applications like operating pallet jacks and forklifts, or lifting boxes. The gloves have a form-fitting stretchy construction and can wrap around the hands very fluidly. You will feel as if you have put nothing on your hands.
These also have a knit cuff design to tightly embrace the wrists. These best gloves for handling boxes do not slip off the hands and there is no entry of dust through the cuffs.
Pros
There is better dust protection and a more secure fit due to the knit cuffs.
The gloves have a form-fitting construction.
There is a better grip due to textured nitrile coating.
It comes with EN388 4131 rating with fantastic light-duty protection.
Cons
It is incompatible with touchscreen devices. It is impossible to operate a smartphone or tablet with gloved hands due to this reason.
2. ACKTRA Ultra-Thin PU Safety WORK GLOVES 12 Pairs
These box handling gloves are perfect for warehouse workers who need to do a lot in an average shift and their tasks include handling boxes, completing a safety checklist, filling inventory forms out, and dealing with other types of paperwork. These gloves offer a higher amount of dexterity to the hands.
The gloves come with the thinnest type of nylon fabric among all the ones reviewed here. This can provide the gloves with a lot of flexibility – for precision work, using hand tools, and writing purposes.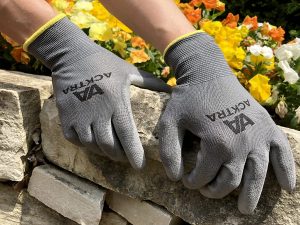 Such kinds of gloves, instead of nitrile or latex which are used more commonly, are polyurethane coated. PU or polyurethane is a plastic material popular for its grip and resilience and is used in shoe soles and wheels naturally. You can expect the same properties in these gloves, which are high in performance and are more durable.
These best gloves for handling cardboard boxes have a no-seam construction and are more durable, due to a higher level of tear resistance. These are also non-conductive due to both polyurethane and nylon being excellent electrical insulators. Your hands can be kept safe from static electricity because these gloves do not conduct electricity. However, due to the same reason, these are incompatible with capacitive touch screens.
Pros
Hands are protected from static electricity due to nonconductive materials on the gloves. There is better resistance due to no-seam construction.
A better level of grip and protection is ensured due to polyurethane coating.
There is a high level of flexibility due to ultra-thin nylon.
Cons
These cannot be used while working with capacitive touch screen devices.
3. Gorilla Grip Slip Resistant All Purpose Work Gloves
These are all-purpose work gloves with slip-resistant grip. The pack comes with 25 pairs of big-size gloves which can be used for handling light duty as well as heavy-duty projects.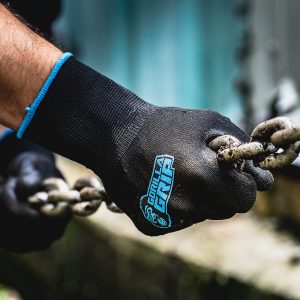 These best gloves for handling boxes have been designed to offer fantastic dexterity to hands and can last for a long time. These have a nylon construction and come with a special type of coating to keep the hands safe – regardless of whether oily, dry or wet substances are being handled. These are ideal for wet surface tasks, oil changes, and plumbing jobs.
There is a polymer palm coating that can push away fluids and grease from the middle area of the gloves to improve grip.
Pros
These are perfect for an entire crew of workers.
It is possible to grip items more securely.
These gloves are more suitable for fine motor tasks and can offer a pleasant feel through your fingertips.
These are more breathable and keep the hands comfortable.
Cons
These are thinner in construction and thus, are more prone to wear and tear than other gloves. But these can last for more time than gloves of the same kind of thickness.
4. DEX FIT Nitrile Work Gloves FN320
It comes from the popular brand DEX FIT, which is known to produce package handler gloves of superior quality. These offer a secure fit and can make workers handle tasks with high dexterity.
Although there is little protection against punctures and cuts, there are plenty of useful features in these gloves.
The 3D Knit is one of the best features here. As compared to regular machine meeting techniques, it can directly gel well with the fabric into the glove shape. This eliminates the need for joining the fabric together which makes the final product durable and flexible.
There is a comfortable nylon fabric construction here, which means that one can wear these for a long time without feeling constricted. The nylon fabric is excellent for keeping the hands moisture-free, which makes it perfect for those with clammy palms. There will be fewer instances of tools or pens slipping out of hand.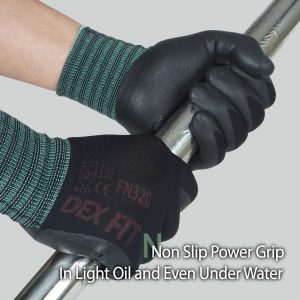 Due to the palms being nitrile-coated, wearers can enjoy better grip even on oily and wait for surfaces and objects. This is impossible with even heavy-duty gloves that are thicker in form and designed for box handling purposes.
There is no need to take much special care to maintain these best gloves for handling cardboard boxes. The nylon fabric is stain-resistant and can be cleaned easily, even after handling soiled items throughout the day. The nylon fabric being synthetic in form is resistant to stretching or shrinking. Naturally, even after multiple washes, these can go on fitting the hands perfectly.
Pros
The material can be washed easily and is low maintenance in form.
The nylon shell is moisture-wicking and comfortable.
The palms of the gloves are nitrile-coated which can offer a better level of grip even on oily or wet items.
It has a 3D Knit construction, which makes it durable as well as flexible.
Cons
These gloves do not offer much protection against punctures and cuts. But there is better grip and flexibility and better assistance for more precise work.
5. G & F Products 12 Pairs Medium Rubber Latex Double Coated Work Gloves
With these gloves, there is no risk of grips failing during the middle of work. These come from the reputed brand G&F Products and you can be assured about the quality of the product. These come at an affordable cost which makes these pocket friendly.
These are excellent work gloves and can be suitable for use as backup gloves as well. The quality is much better than you can expect from such reasonably priced gloves. When compared to pricier gloves out there, these are composed of a thick polyester-cotton blend – which makes the product very comfortable to use and wear.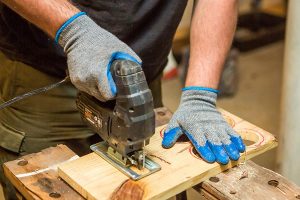 The fabric is quite comfortable and gets support from a double-dipped latex layer. On most surfaces, it is possible to get a better grip due to this reason. These gloves have much thicker latex than can be found on medical gloves which makes them better for various kinds of tasks.
Due to the latex rubber construction, the gloves are more abrasion and cut-resistant and offer better grip while working. These are more durable and are perfect to wear for package handlers who are always at risk of scraping and cutting hazards while working. However, latex is not that suitable for automotive applications – given that the material can break down upon exposure to petroleum and oil products.
Pros
It comes with fantastic abrasion and cut resistance features.
The double-dipped latex palms offer longer life and better grip.
There is a superior level of comfort due to the polyester-cotton blend.
The product comes at an affordable cost and can last for a long time offering more investment value.
Cons
Due to the latex construction, the gloves are not appropriate to use for automotive applications.
6. DEX FIT Nitrile Work Gloves FN330, 3D Comfort Stretch Fit
Most of the work gloves that are used for handling purposes are thick in construction. These come with excellent advantages but are not an all-purpose solution. Also, for all those workers who need to load packages onto trucks or other vehicles and drive them, the bulky gloves make driving unsafe.
This is exactly the reason why these thinner gloves from the brand DEX FIT can be a more appropriate option.
As compared to the thick iron-clad box handler globe fabrics, these come with a 15-gauge knit that is significantly lighter. This allows more freedom while moving fingers and a better ability to grab onto steering wheels and other things with much more precision.
The fabric that has been used for the meat of the gloves is a blend of spandex and nylon which allows better dexterity of the hands. This is particularly useful for workers with stubby fingers. These gloves have a stretchable knit which allows attending to box handling and other tasks more comfortably.
As these work gloves are thinner in construction, it is not possible to get much protection from them. These are related only to ANSI A1 cut resistance. This much can be useful for a firm cardboard box edge but not sufficient for anything sharper, such as a stray box cutter.
But that does not mean that there is a lack of protection when these gloves are used. These gloves have palms dipped in nitrile – which is a type of synthetic rubber. This might not offer excellent cut resistance but wearers can get a fantastic grip and the hands can be kept safe from hazardous chemicals.
These gloves are also safe to wash in the machine. After a long and hard day at work, these can simply be tossed into a washer for proper cleanup.
Pros
Due to excellent flexibility and grip, these are perfect for delivery drivers.
These can easily be washed in machines and cleaned up with convenience.
Due to a spandex and nylon blend, there is a flexible fit.
It is possible to get a superior level of dexterity due to a 15-gauge knit construction.
Nitrile palm coating can offer better resistance against chemicals and an excellent grip.
Cons
It only has ANSI A1 rated cut resistance.
How to Choose Cardboard Box Gloves of the Best Size?
When it comes to the best gloves for handling cardboard boxes, the sizing depends on how a manufacturer company defines its glove sizes and constructs its gloves.
Generally, it is possible to find box handling gloves in various sizes – ranging from extra small to extra large. Typically, each size is measured as per the width of the palm. Some of the gloves that are composed of stretchable materials tend to be more comfortable as far as the size is concerned.
It is important to remember that the best gloves for handling boxes that fit properly should offer a snug fit. These should neither be too tight nor too loose. If a glove is too loose it might slip out of the hands at the time of working, whereas a very tight glove will impede the flow of blood to the hands.
It is more important to ensure that the length of the fingers fits the gloves just properly. It can be uncomfortable if the fingers are very short.
However, if the fingers happen to be too long, there can be potentially dangerous consequences if the extra finger material gets caught in sharp machinery.
It is also essential to ensure that the gloves can offer a fantastic grip, and can let you properly handle boxes, without the risk of dropping them.
Box Handling Gloves – Care and Maintenance Tips
There is greater care needed for unsupported and synthetic gloves. It can be a good practice to wash your gloves on a set basis with the help of running water.
Unless there is the use of adequate water for cleaning solvents might be utilized. It is important to evaluate the chemicals involved in the particular cleaning solvent. At the end of the working day, you should store the gloves, give them a final washing and hang them to dry.
While giving your coated work gloves a laundry wash, make sure that your washing machine is set to cold water with the temperature – set anywhere from 30 degrees C / 85 degrees F and less. It is essential to make use of a soft detergent that does not cause damage to fibers or the glove's coating. Due to this reason also, it is not recommended that you use bleach. It might damage the coating and reduce the amount of protection for wearers. You should dry your box handling gloves on a no heat or a low heat setting.
When you give your nylon shell work gloves a laundry wash, you should remember to set your washing machine to a warm temperature setting for water, with the temperature being about 40° C / 105° F. You should use a mild detergent, with a delicate or gentle setting on your washing machine. Nylon gloves, similar to coated gloves, need to be dried on a no-heat or low-heat setting.
Guide to Buying Box Handling Gloves
It is possible to find box handling gloves with different types of features but all of these are meant to serve any of these three primary purposes:
Better grip
While moving out boxes, any worker would always like to have a better grip hand on the boxes that they handle. The right kind of gloves can ensure that; take care that the package is not damaged and there is no injury caused to the worker and others around him. The best gloves for handling cardboard boxes need to have an excellent grip that can prevent these issues. A pair of gloves can be quite gripped strongly when there are rubber pads or silicone pads along with the fingertips and palms.
Higher level of protection
Box handling gloves are part of personal protective equipment and should keep hands protected from chemicals germs impacts punctures scrapes and cuts. This can be ensured with gloves that come with ANSI and CE EN388 ratings. Such kinds of gloves have an industrial level construction and can resist mechanical hazards quite well. The higher ratings suggest a better level of protection for the hands.
More flexibility
As far as box handling gloves are concerned, hand protection is not all. It might be pleasant to get heavy-duty protective gloves for hands, but these can be too heavy for comfortably holding smaller objects.
This is exactly the reason why it is important to consider the flexibility of the box handling gloves that you are thinking about purchasing.
It is important to ensure that the gloves can let you freely move your fingers and do all the activities that you are supposed to deal with.
Material of construction
These days, you can find the best gloves for handling boxes composed of all kinds of materials, due to new manufacturing techniques and the use of synthetic materials in construction. As is the case with shoes, leather-constructed gloves can be great; although expensive. Leather is still used for the construction of some of the most high-quality FedEx package handler gloves. While those are slightly too pricey, synthetic leather gloves are more reasonable in terms of pricing and can last for a long time – which is why these are getting more and more popular today.
Fabric gloves can be the best choice for people who wish to opt for thinner gloves such as UPS drivers. When it comes to the material of construction there are plenty of materials to pick from. These include spandex nylon polyester and cotton. Each fabric comes with properties of its own, which makes it more appropriate for some kinds of applications as compared to others. For instance, cotton happens to be most comfortable whereas Spandex offers the utmost amount of stretchability.
Glove manufacturers often blend to fabrics or even more for the construction of gloves. Upon combination, the properties and qualities of the materials can work in unison to create a more desirable product.
It is important to remember that most fabric box handling gloves are almost always constructed in such a way that they are rubber reinforced. Other than this silicone, nitrile and polyurethane are embedded often into fabric gloves – which make them the best for handling moving boxes. When these materials are combined it is possible to get the grip and resilience of rubber and the comfort factor of fabric.
What is the Durability of Box Handling Gloves?
Most of these last for around 1 – 2 months. When abrasive work is done wearing it, the coating and materials can quickly wear away. While you can make your gloves last longer, using thicker gloves can lead to perspiring hands and impede your mobility.
Typically, under normal use, when you use a good pair of gloves for box handling purposes you can expect it to last for around one month. But it can be quite difficult to predict how long a pair of box-handling gloves would last exactly because it is entirely based on how much these are used.
For example, with heavy usage, there can be tears in heavy-duty packing gloves in just about two weeks. On the other hand, coated fabric gloves may last for more than a couple of months if they are used for only light-duty work. Due to this reason, you need to consider your purpose of use, before you buy a pair of gloves.
The value of money is another important thing that should be taken into account while purchasing the best gloves for handling cardboard boxes.
It is a good idea to buy multiple extra pairs instead of just one pair of heavy-duty gloves. When you do this, you can expect to have your gloves lasting for a longer time.
Package Handling Gloves for summer and winter – What Are the Differences?
Yes, there are different types of gloves to suit the needs for handling boxes and other items during the summer and winter months. Choose breathable gloves in summer and go for gloves with added insulation for winter.
During the summer season, you can use:
Smooth nitrile palm gloves
Textured latex palm gloves
PU palm coated gloves
Smooth nitrile palm gloves
Smooth nitrile palm gloves
Textured latex palm gloves
Mechanics gloves
In the winter season, you can use:
Textured latex palm gloves
Textured latex palm gloves with acrylic shells
Textured latex palm gloves with napped acrylic shells
Insulated mechanic style gloves
What are the Health Risks of Using Cardboard Box Gloves?
There is a chemical in the cardboard gloves which might cause skin irritation for you. There are mold development risks, which could lead to allergic infections or reactions. Unless latex is involved, treating it can be difficult.
What to Do If Cardboard Box Gloves Become Dirty?
Gloves that are composed of strings, cotton, synthetic and leather last for more time and offer better performance when you clean them regularly.
Some of these can withstand the stress of laundering much better, as compared to others. It is possible to launder cotton, string, and leather gloves commercially, with a minimal amount of shrinkage.
Conclusion
It can be quite tricky to find the best gloves for handling boxes for your requirements – given that these are available in the market in various sizes and shapes. For delivery drivers and warehouse workers, it is important to have a proper pair of working gloves. It can keep the hands protected from chemical and physical hazards while dealing with numerous packages every day.
Post You May Like: Best Work Gloves for Landscaping, Gardening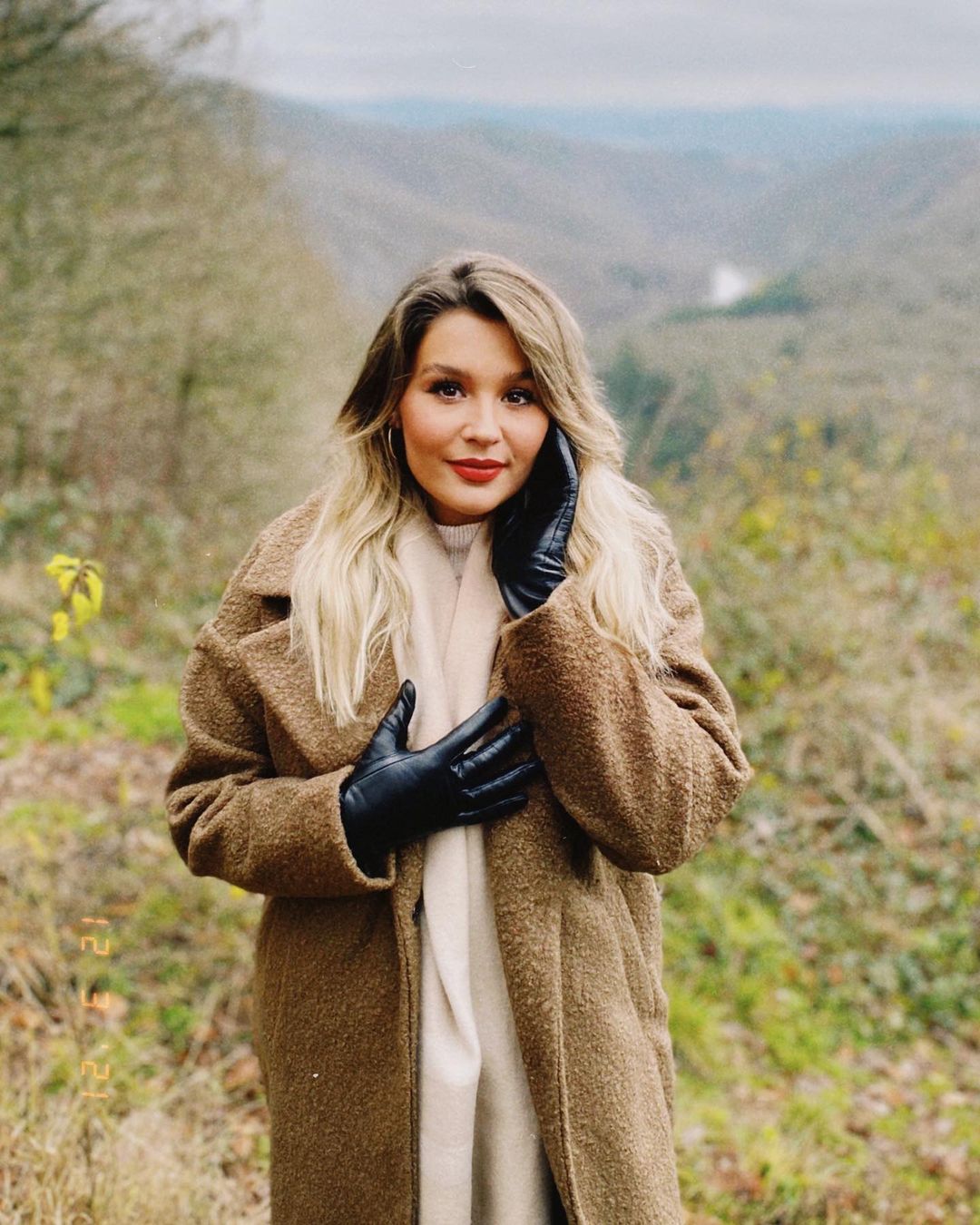 I am not a good blogger but I started blogging when I was in my college. one day scrolling my social media pages and top of the page one notification was coming like this " earn money from blogging".then I clicked that notification. After that, I was confused that which niche is better for me. Finally, I selected the niche and I was comfortable with that glove's reviewer.