It is one of the most enjoyable activities on the planet to landscape. Whether you are a professional or a hobbyist, a little piece of paradise is something you can't beat. But landscaping also contains risks for people. To protect your hands from all of these hazards and more, you should get the best landscaping work gloves.
Landscaping work can cause painful blisters, cuts, and scrapes. Besides, sometimes you have to deal with rough surfaces, bacteria, dirt, etc. Keep yourself safe from any type of accident and all these unnecessary items. With the best work gloves, you will be able to keep doing the work you love while keeping your hands in great condition. This guide will introduce you to a few of the best gloves specifically made for landscaping. Regardless of which glove you choose, you are sure to get a great deal for your money. 
Different Types of Landscaping Gloves
To protect your hand while landscaping, you can use different types of gloves. According to your need, you can select any of them. Here are the five best landscaping work gloves for your protection.
Leather landscaping Gloves.

Cotton landscaping Gloves.

Disposable Landscaping Gloves.

Rubber landscaping Gloves.

Stretchy landscaping gloves (Spandex or Lycra
Advantages and Disadvantages of Landscaping Gloves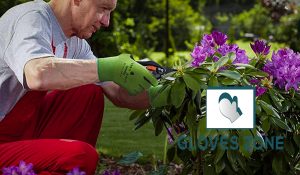 Advantages
The gloves can prevent toxic chemicals from contacting our hands, such as insecticides, herbicides, etc.

 Landscaping gloves are water-resistant and keep your hands dry while working.

These gloves will protect your hands from cuts and minimize infection

Help users develop flexibility and skillfulness.

Make gardening easy, hassle-free, and risk-free by making it easier to do

 Landscape gloves are cheap, and you can use them for a wide range of works.

It is possible to preserve the best landscaping gloves for long-term use.
Disadvantages
The disadvantage is the lack of grip

Each time you use them, you need to clean them properly,
Specific Tasks and How They Affect Hand Protection Requirements
It is not an easy task to landscape because it involves various tasks. Maintenance work includes cutting, edging, fertilizing, and weeding lawns, trimming small trees, hedges, shrubs, etc. Your landscaping business' equipment, materials, and chemicals also pose injury risks to homeowners and other third parties. You must keep your hands safe from 
Hand injuries

Cuttings and scrapes

Viruses that transmit diseases

Harsh chemicals

Toxic plants

Excessive exertion
9 Best Work Gloves for Landscaping Review
1. CLC Custom Leathercraft 2046B Work Gloves 
With 70 percent leather and thirty percent cotton, the 2046b gloves are ideal for landscaping. These finest gloves have some special features and quality that are helpful and useful to the users. Cotton material is on the front to add flexibility to these custom leathercraft gloves. 
The fingertips are made from split leather for ensuring protection for the users. Handling tools or pushing a wheelbarrow becomes easier with the added grip strength of these work gloves. The back of 2046b gloves is made from cotton, lightweight. As a result, you can use the gloves in many different work environments without worrying about the fingertips breaking.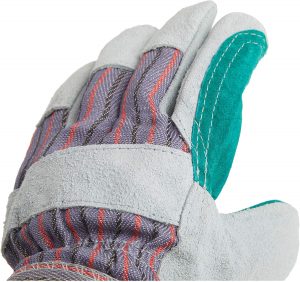 When working in the garden, you will move your hands freely. Due to the material, the gloves can be both heavy-duty and flexible enough to be used in small work environments. These gloves are perfect for gardening, odd jobis and working around the yard with their long wrists.
Pros
You will have a better grip on your hand
Suitable for working in a wet environment
Durable and comfortable
Cons
Not suitable for hard labor
 2. Pine Tree Tools Bamboo Gardening Gloves 
These gloves are made with a fabric made out of bamboo fibers, purely environmentally friendly. These gloves are comfortable and good for both men and women. The most amazing feature is that these gloves are touch-skin compatible. You can pick up your important call while working in your yard wearing them.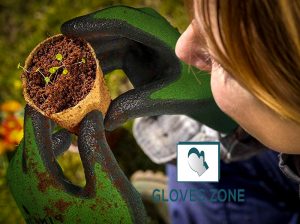 As well as being environmentally friendly, the glove's material is also very lightweight and breathable. What is the point of wearing those clumsy and thick gloves while doing chores around the house? Due to their construction, these gloves have a snug fit. As a result, the gloves feel like a second skin and fit tightly against the hands. You can use these gloves for gardening and construction, restoration, fishing trips, and other purposes.
Pros
The built-in material is exceptional and nature friendly

Breathable and lightweight

It is a snug fit to the hands and provides better grip

Rubberized palm coatings ensure proper protection for your hands
Cons
Extra Large hands may find the gloves a little tight
3. G & F Products – 3100L-DZ-Parent 12 Pairs Work Gloves
While we're working on your landscaping project, one of our gloves can fall apart. These are common causes for every landscaping work glove. But these special rubber latex gloves come with 12 pairs of gloves in a single box at a very affordable price. These premium quality landscaping gloves are usable for a wide range of works. The gloves offer a double-coated palm that is durable and flexible.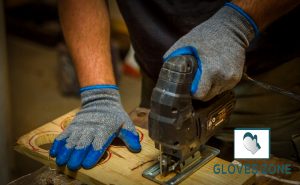 In addition to being grippy, the latex rubber coating is also very durable. Besides, the gloves' added texture provides extreme grip for the users. Additionally, the gloves are much durable and do not fall apart easily. 
Pros
Cost-effective when purchased in bulk

Ensure proper grip while working

Provide all-day comfort with cotton knit body

A durable double-coated palm protects your hand from injuries
Cons
The gloves are not puncture-resistant
4. Ozero Flex Grip Leather Work Gloves
This pair of bright yellow gloves from OZERO is an excellent pair for performing tasks in landscaping. Ozero flex-grip gloves come in different sizes to ensure comfort to the users.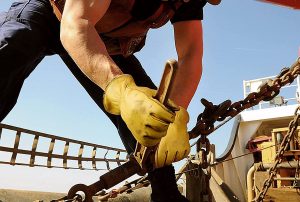 The gloves are made from cowhide leather and protect you from cuts, scrapes, and punctures. Also, the gloves have leather patches on the palms with a good texture surface. Suppose you want proper protection for your hands while landscaping, these gloves are suitable for anyone. Besides, the modern palm design ensures proper grip while working. Using these leather gloves, landscaping is fun and easy. The gloves provide the perfect balance between comfort and flexibility, and it works well with any type of landscaping work. 
Pros
Provide ultimate protection

Improved grip with textured palm patch

With the Gunn cut, you'll feel more comfortable and flexible

The gloves are easy to wear and take off
Cons
Not suitable for industrial work
5. DEX FIT Nitrile Work Gloves FN330
The lightweight dex fit gloves are snug fit and usable for multi-purposes. So, for anyone who needs high-quality landscaping gloves, this is a perfect choice. Additionally, you can use them for industrial work. Besides, they are suitable for work in different conditions. 
These work gloves are constructed from 15 gauge nylon, making them durable and flexible. The gloves are ideal for working for a long-term period. They will feel like a second skin while you wear them at work.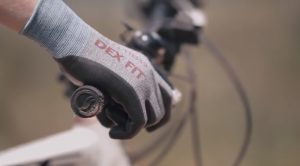 The gloves are also quite stretchy due to their knitting. These non-slip gloves fit well to any hand and make any landscaping work easy. The gloves are suitable for both men and women. Furthermore, it features touch skin compatibility. So you can use your smartphone while wearing them. 
Pros
Lightweight and comfortable 

A stretchy knit ensures a snug fit

Easy to clean

Suitable for both men and women

Non-slip nitrile palm ensures a better grip
Cons
6. VGO Safety Work Gloves
VGO safety gloves come 15 pairs per packet and offer incredible value for your gardening. So you can easily replace them when you need to. We all need to save money, and these high-quality gloves are the most affordable landscaping gloves available on the market.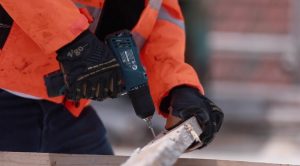 The gloves are very well made, despite their low price per pair. As with many of the gloves on this list, these gloves have a knitted coated fabric design. The inside part of the gloves is made from a polyester inner liner. This is why they are comfortable and soft for the users. You can easily clean them using a machine wash. However, these gloves will also do good for odd jobs and landscaping tasks.
Pros
Convenient and affordable

Help to Maintain a balance between grip and dexterity

Comfortable for long-term landscaping

Durable and flexible
Cons
Puncture protection is insufficient
7. Lamont Nitrile Work Gloves
This Lamont nitrile glove comes with a durable coating to keep your hands safe. These gloves feature a polyester knit shell that is comfortable and flexible. Even people who have sensitive skin can use them without worries. Lamont Nitrile Work Gloves fit well with its users because the knit wrist fits snugly. Additionally, it helps to keep away dust, abrasion, and cuts.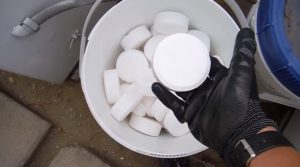 These work gloves are suitable for multi-purposes. Along with gardening, you can use them for construction, farming, and DIY projects. The glove comes with a five-pair pack that includes two blue and three gray pairs. 
Pros
Comfortable and fit well to your hands

Ensure proper protection

You can perform a wide range of works wearing them

Usable for multi-purposes
Cons
Nitrile coating is not stable 
8. Superior Heavy Duty Gardening Gloves
These snug-fit best landscaping work gloves provide perfect grip on your hands. Superior gloves are breathable and wick moisture away from your hands. The Canadian manufacturer of the product ensures full protection for the users. With their years of experience, they provide one of the most suitable landscaping gloves.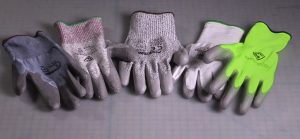 The main purpose of using landscaping gloves is to protect from cuts and scrapes. According to the ANSI standards, Superior Glove's gloves have a cut and abrasion rating of Level 3. This glove combines fine-gauge polyester layered with two layers of microfinish latex. As a result, superior gloves are water-resistant and comfortable.
Pros
Protect cuts and abrasion 

Ensure butter grips in wet and dry conditions

Fit well to your hands and suitable for long-learn work

You can use them in wet and slippery situations. 
Cons
 Snug fits may not be comfortable for everyone 
9. Handlandy Work Gloves 
Handlandy work gloves are another high-quality glove for landscaping. We are recommending this one for its versatility feature. The most amazing feature of the glove is that it is touch skin-friendly. So you can use your smartphone while working in the garden. The gloves have foam padding in the palm, which provides conformists while working. In addition to not being very breathable, the padding can also become unbearably warm.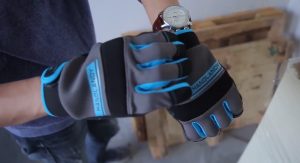 Furthermore, it features a supportive neoprene cuff with hook and loop closure strips. It is more effective to wipe sweat from your face and keep focused on what you are doing. The gloves provide extra protection to your hands for any landscaping work. These best lawn care gloves are suitable for both men and women. 
Pros
You can operate your smartphone while working

Comfortable and add extra protection to the users

An adjustable neoprene cuff ensures a good fit

Easy fit to any hand
Cons
A thick layer of padding can be quite warm
Are our Nitrile Gloves Good for Landscaping?
First, you should decide what type of task you want to perform before choosing your landscaping gloves. Leather and thick gloves provide proper protection to your hands. When performing heavy tasks, there are not these best gloves. But if you deal with chemicals such as fertilizer, pesticides, and herbicides. Nitrile gloves are safer and more reliable.
 Your hands remain impermeable to chemicals with nitrile gloves.  

These gloves fit snugly, allowing a firm grip, helping prevent accidents.

Wearing nitrile gloves, you can also handle slippery and wet objects easily.

The best part of nitrile gloves is that minor scrapes cannot make them tear apart. 
How Can I Wash Landscaping Gloves?
As part of our guide to the best work gloves for landscaping, we will explain how to wash your gloves. You can increase the longevity of landscaping gloves by washing them. You can also maintain them by following these simple steps. Keep your gloves clean by following these steps. 
Note: Landscape gloves usually come with instructions for washing them on the packaging. If your gloves support machine wash, you can apply them without hassle. 
Cleaning Dirt
First, clean the gloves with a toothbrush and remove the dirt and grime. Using the right detergent, you can brush dirt and grime off the glove. When you're cleaning your gloves, make sure you reach every corner. 
Use Fresh Water
You should put your gloves into a bucket of fresh water after cleaning them.
To the bucket, you need to add some detergent along with some salt. Mix the water well and remove dirt with your hands. Get another bucket of fresh water and soak your gloves for 15 minutes. Once the gloves have been cleaned, rinse them with another bucket of water. Be careful not to damage your cleaning by vigorously squeezing downwards. 
Dry 
In the final step, you will need to dry your gloves in an area that is well ventilated. UV rays can cause your gloves' material if exposed to direct sunlight. You can use this method for any glove that you wear regularly. Cleaning your gloves this way is the safest way to increase their lifeline. 
Key Tips 
You should wash your gloves regularly

Never dry your glove under direct sunlight

To prevent wrinkles, store them straight when storing

When your gloves are wet, avoid storing them
What to look at before buying a Work Gloves for Landscaping
To choose the best landscaping gloves, you must consider a few key factors. You should keep in mind a few things while buying your gloves. With these qualities in mind, you will be able to choose the best work gloves for landscaping. 
Flexibility And Comfy
The first thing you should consider when buying gloves for landscaping is the flexibility of the gloves. A perfect pair of gloves can save your hands cuts and abrasions. You cannot complete your task smoothly because they are uncomfortable to hold in your hand. If you want your fingers to move freely, you should choose gloves that allow you that flexibility. You need to perform different types of work while you do landscaping. This is why you need comfortable and flexible gloves. 
Protection 
A pair of landscaping gloves will serve the purpose of protecting your hands from harm. Don't forget to check the protection ability of your landscaping gloves. In that case, an ANSI or EN388 protection rating is enough. These industrial standards rate a pair of gloves according to how well it protects against cuts, abrasions, punctures, and tears.
Material
It is important to inspect the gloves' material before purchasing them. Make sure the gloves are constructed from quality materials. You should ensure the gloves effectively protect your hands from threats and dangers you face regularly. Materials can protect against cuts, injuries, chemical dangers, and others. Think about different types of gloves to determine which one is best for your situation.
Be sure to check the padding on your landscaping gloves. The padding ensures long-lasting use of the gloves. The padding also protects you from sharp edges while working. 
Size
 Everyone has trouble finding the right gloves when buying them for work. The wrong glove size can lead to many problems down the road. For landscaping, you need comfortable gloves that fit well to your hands. 
FAQ
Are Landscaping Gloves Machine Washable?
Your work gloves will get dirty when you're in the garden or working in the yard. Most of the landscaping gloves are machine washable and easy to maintain. You should check the package's instructions before you try to clean them using a machine. It is possible to machine wash jerseys, cotton, and other knit gloves. When you've pre-rinsed them, wash them in the washing machine as usual. Try to use warm water while washing them in the machine for better results. 
Are Leather Gloves Good For Landscaping?
The answer is yes; leather gloves are good for landscaping. Gloves with leather palms protect your hands from any cuts and scrapes. Additionally, these gloves are affordable and usable for a wide range of work. In addition to protecting your skin, the thick leather can provide some padding against the pointy protrusions on branches.
How to Choose The Best Work Gloves For Landscaping Jobs?
You should consider certain factors before choosing a pair of gloves. If you are buying gloves for landscaping, the first thing you should look for is their flexibility. The purpose of landscaping gloves is to protect your hands. 
Choosing the right pair of gloves can prevent cuts and abrasions on your hands. Before purchasing gloves, it is important to inspect the gloves' material. The best are landscaping gloves that feature comfort, durability, flexibility, and a protection rating. 
Why Do You Need to Wear Landscaping Gloves?
Landscaping is a great way to unwind, enjoy nature, and get a little dirty at the same time. Consequently, we should use gardening gloves and other protective equipment with care. Many bacteria, fungi, and chemicals live in soil and fertilizer.
 Furthermore, there is a risk of cutting injuries when working with tools and materials. Gardeners wear gloves for several reasons, including keeping their hands and fingernails clean and dry. You should also wear gloves to avoid blisters and calluses. Ensure that cuts and scrapes aren't infected or prevented.
Are Mechanix Gloves Good For Yard Work?
You can use Mechanik gloves for your gardening work. You can use gloves if they are flexible, fit well and protect your hand from any type of harm. Additionally, you must check that the particular gloves are water-resistant and durable for heavy-duty work. 
Final Words
If you love gardening, you should use work gloves to make your work fun and easy. You must wear comfortable gloves and fit well to your hands to perform your tasks efficiently. Although many options are available, you are sure to find one that has high-quality features with this guide. The purpose of this guide is to ensure you can make the right decision without any doubt. These gloves ensure safety for your hands and maintain all the standards of best work gloves for landscaping.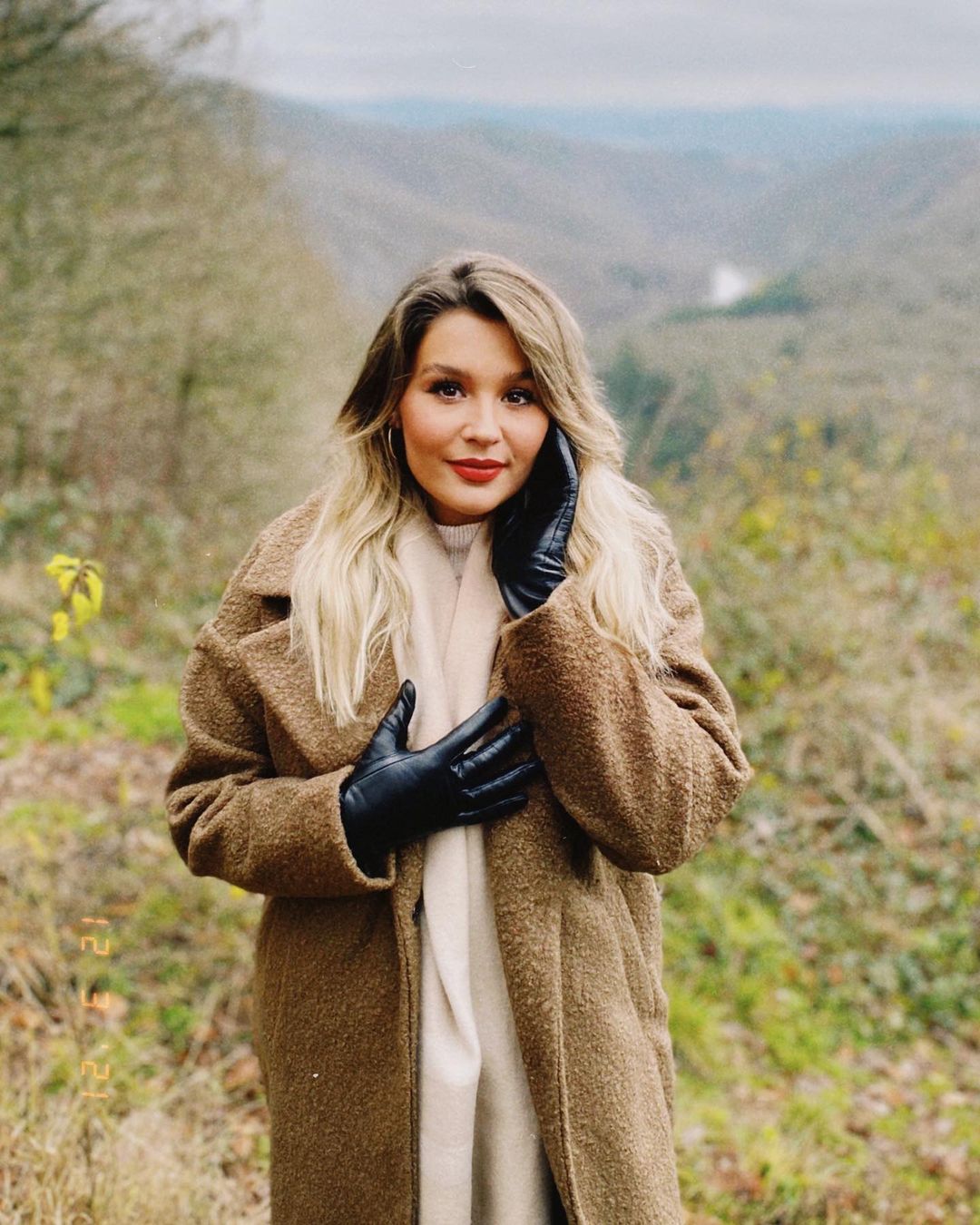 I am not a good blogger but I started blogging when I was in my college. one day scrolling my social media pages and top of the page one notification was coming like this " earn money from blogging".then I clicked that notification. After that, I was confused that which niche is better for me. Finally, I selected the niche and I was comfortable with that glove's reviewer.