Whether you are a home cook who is barbecuing foods for your friends and family members for a sunny weekend or an avid pitmaster feeding a large group of people, you need a pair of the best disposable gloves for BBQ as an important accessory that can be very useful for you while barbecuing. There are various kinds of BBQ gloves available in the market. Based on what your application is, it will be useful for you to know what type of BBQ gloves would be most suitable for you.
Types of Disposable BBQ Gloves
It is a good idea to find out about the four different types of material that are generally used for making BBQ gloves. These are:
Fabric
BBQ fabric gloves are generally composed of a fabric that is heat resistant such as Nomex, Aramid, or Kevlar. Such kinds of gloves are not designed to handle food, given the fact that grease, oil, food, etc would cling to the fabric.
It is important to avoid the use of white fabric gloves, as water makes them conduct heat rapidly – making any heat insulation noneffectual.
Synthetic
Generally, synthetic gloves have a silicone or rubber exterior which might be resistant to water and other liquids. These might have a fabric lining made of wool or cotton, which can resist heat well.
If you are in search of synthetic BBQ gloves, ensure that you look for one with a thick coating that can allow a better level of protection. But you should remember that while these gloves are wet, the water can make these conduct heat at a faster rate – just like fabric gloves.
Silicone
These types of gloves, similar to synthetic gloves, are excellent for handling food items. This is because silicone can easily wick away any grease or oil, due to its non-sticky liquid-resistant properties. But these have a slippery texture which can make it difficult to grab food items such as meat, briskets, or ribs. These are designed for a looser fit, which means there can be a loss in grip and dexterity.
You can find a fabric liner within the gloves, which are there to offer better comfort and protection from heat. It is possible to find a lot of silicone gloves that are composed of silicon of food-grade. Some of these are completely free of BPA.
Leather
These have long been in the toolkit of many barbecuing experts, ever since the barbecuing tradition came to existence. Leather gloves come with a fabric lining and the leather material can offer excellent protection from heat. But these are not useful for handling food items properly, given that the surface can be stained easily due to grease and oil. So, it is much more difficult to clean up leather gloves.
Similar to silicone gloves, these generally have a loose fit and are comfortable, although that means a compromise on the dexterity front.
Nitrile
These are dexterous in form and you can wear them with a lot of comforts. You can wash these in the machine, which can help you to avoid a lot of hassles. The best black nitrile gloves for BBQ are perfect for handling hot grates, grills utensils, pans, pots, brackets, hot logs, and coal.
Generally, you can clean black nitrile gloves BBQ up with some water and soap.
4 Best Black BBQ Nitrile Gloves Review
Here is a review of some of the best black nitrile gloves for BBQ purposes.
1. X3 Black Nitrile Industrial Disposable Gloves
These Black Nitrile gloves are textured fully and can offer excellent grip. These have tactile sensitivity and come with a professional black appearance, which can easily hide grime, grease, and dirt.
For short-duration applications, where gloves must be changed often, such as sanitation, janitorial, or food service, X3 Black Nitrile gloves can be ideal to use.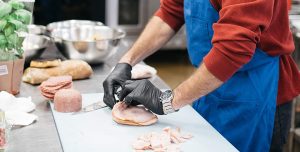 Pros
You can get an amazing grip due to its micro-roughened surface with textured fingertips.
It is powder-free, which makes it safe from flaws in sealants, finishes, and paints resulting from residual glove powder.
Cons
It has no flaw to speak of.
2. Oklahoma Joe's 4386292R06 Disposable BBQ Gloves, 50-Count, (Pack of 1), Plain
When you are in search of BBQ gloves, it is essential to make sure that the ones you get are composed of heat-resistant material. This is because standard BBQ gloves will not keep your hands protected enough from heat sources.
While cooking or preparing the foods of your choice, Oklahoma Joe's gloves can be very useful. There is added layer of heat resistance for taking foods off the smoker.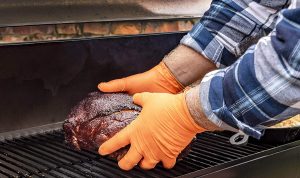 Pros
There are cotton glove liners and latex-free nitrile material.
It is machine washable, and highly durable.
These are food safe for prepping vegetables and meats.
Cons
These do not last for a long time.
3. OKIAAS Black Disposable Gloves Medium
These industrial nitrile gloves are powder and Latex-free. You can get an enhanced grip & protection due to the micro-texture design. These best disposable gloves for BBQ are ideal for chemical and oily ambiances.
These are perfect to use for handling hot grates, logs, utensils, coal, grills, pans, and pots. For those who have to work with chemicals, acids, and oils, these kinds of gloves can offer the best performance.
When dexterity and flexibility are needed, the use of these gloves can be very useful. If you need a better, stronger grip, these are the gloves that you should opt for.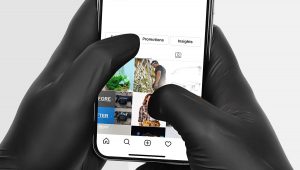 Pros
These have excellent tactile sensitivity, and can be worn by both men and women.
These are perfect for cooking, BBQ, food handling as well as for cleaning, plumbing, painting etc.
You can wear these and work effectively in dry or wet conditions.
Cons
Being disposable, these have a shorter life span.
4. Nitrile Disposable Gloves Pack of 100, Latex Free
These best black nitrile gloves for BBQ are ideal for handling food and can also provide you with excellent flexibility and dexterity, letting you handle grates, grills, pans, and pots easily.
Owing to the material, you can find these gloves from the brand Kexle holding up well enough – even after wearing them for a long time.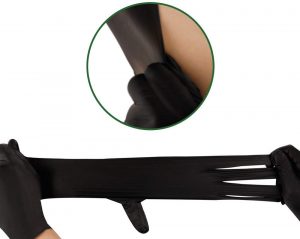 Pros
These can be used on any occasion, be it for food preparation, barbecuing, cooking, or even for cleaning, pet care, painting, etc.
These come with textured fingertips and are food-safe. There is improved strength and tear resistance, and the gloves have been designed for professional use.
You can get an optimal amount of grip for dry as well as wet objects. The high-quality disposable gloves can keep your hands safe.
Cons
You might find these slightly pricey. Also, these are disposable and do not last long.
How to Care for BBQ Nitrile Gloves Before Use?
Before each use, you should inspect the material and check whether it is okay – without any perforation, tear, or other issues. Store these in a safe place, away from sources of heat or cold places, to make the gloves last well.
What to look at before buying disposable BBQ Gloves
Here are some factors to check, to choose the best black nitrile gloves for BBQ.
Cuff Length
The longer the cuff is, the greater the protection from hot fires and flames for your arms. Your hands can also be kept safe from food bits and splashing grease.
Heat Resistance
Look for gloves that can withstand very high heat. Otherwise, these can melt or end up burning your hands – given that smokers can become as hot as 500° to 600°Fahrenheit.
Dexterity
If you wish to get a comfortable, risk-free grilling experience, look for a pair of gloves that comes with better dexterity.
Durability
You can do with a relatively cheaper, less durable pair of gloves if you do not use the grill regularly. But you should look for long-lasting and very durable gloves if you use grills often.
Price
More expensive gloves are more durable, while cheaper ones are less likely to hold up before high heat.
What gloves do BBQ pitmasters use?
Black gloves made of Nitrile are used by them. This is a slightly heavier material, and there are fewer risks of tearing or puncture.
Are nitrile gloves heat-resistant?
Yes. Nitrile gloves are highly heat-resistant, as these can withstand up to 250°C high heat. These are known for excellent dexterity.
Can you protect your hands well with heat-resistant gloves?
These can protect your hand and forearm, make your grill session comfortable and safe overall, and let your hands maintain dexterity. You can safely reach across the grate and deal with utensils or foods easily.
Final Words
High-quality BBQ gloves can keep your hands protected from hot grills and other sources of heat, at the time of grilling. These can also provide your hands with enough dexterity, for handling knives and tongs. You can choose from the best black nitrile gloves for BBQ listed here, and make your barbecuing sessions highly enjoyable.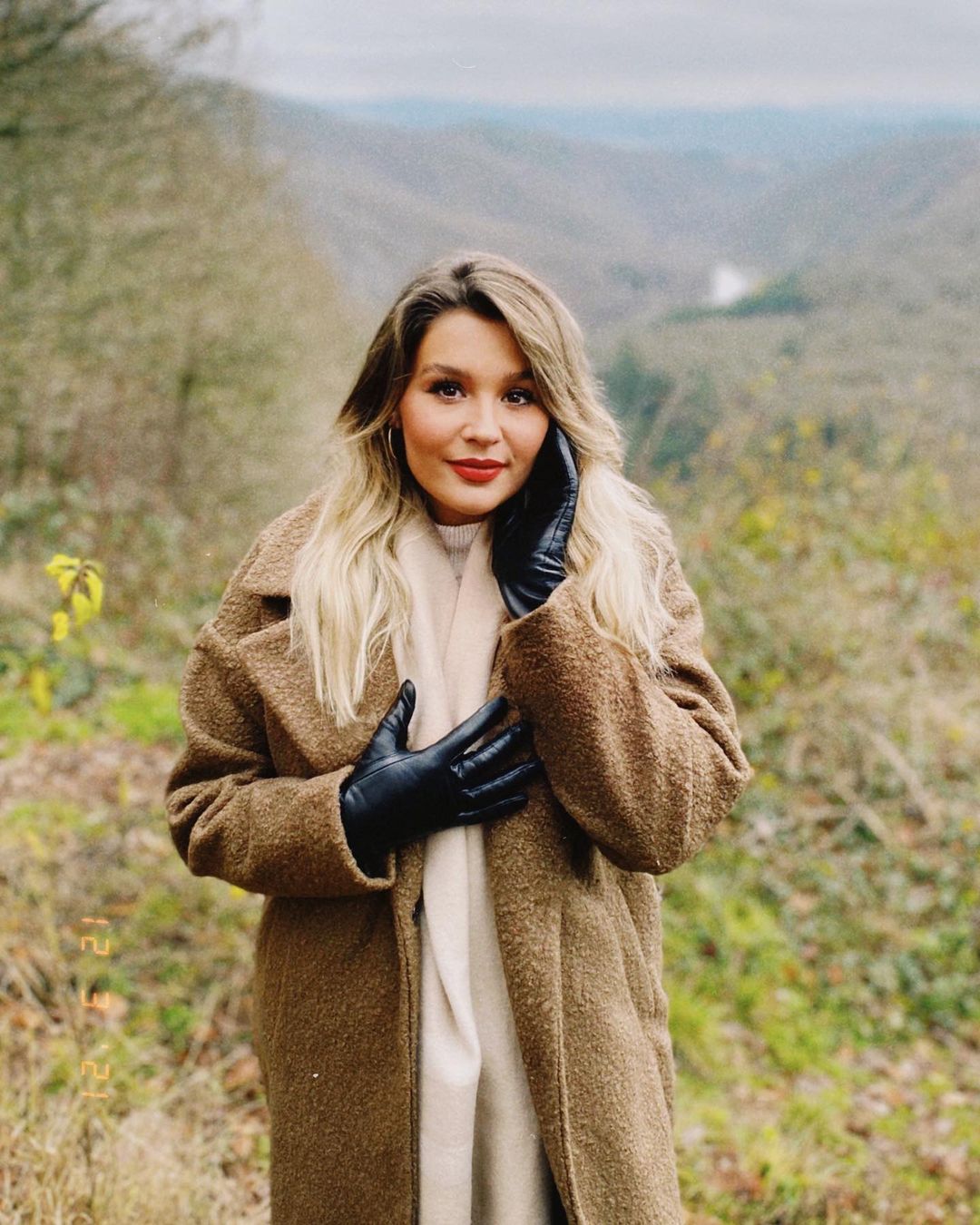 I am not a good blogger but I started blogging when I was in my college. one day scrolling my social media pages and top of the page one notification was coming like this " earn money from blogging".then I clicked that notification. After that, I was confused that which niche is better for me. Finally, I selected the niche and I was comfortable with that glove's reviewer.