The best way to get started with your pruning is by having the right tool to do so. You want to make sure that your roses will be in tip-top shape and properly cared for.
The first step is to make sure you have the right pruning glove. Garden gloves help you maintain healthy roses by protecting your hands against thorns and rough plant debris while still giving you maximum control.
We've found Exemplary Garden Rose Pruning Gloves are best to use for this job. They're ideal for thorny rose bushes and other prickly plants.
We have reviewed fourteen gloves to help you make the right choice and we've also included a helpful buying guide to help educate and inform your purchase.
Let's get started.
How to Choose Rose Gardening Gloves
The best way to choose rose pruning gloves is to consider their form, flexibility, grip, and protection.
Form means the material of which the gloves are made. Flexibility is about the mobility of materials. Grip means how well you can hold on to and control any tools and materials while wearing them.
Protection means their ability to reduce exposure of the hands to the various hazards that may exist in gardening.
Here, you will find the most common things to look for when choosing comfortable gloves for rose pruning.
Materials
Leather and spandex are great materials for rose pruning gloves. Natural leather is commonly made from goatskin, pigskin, and cowhide. Spandex is a synthetic fabric. It has stretchy properties and is typically lightweight.
Leather gloves will still be sturdy after a long period of use – although they tend to become stiffer. Pigskin gloves are usually thinner and softer. Goatskin has thick and rigid layers of skin, which makes it less flexible but very durable.
Cowhides are great for heavy-duty tasks. They are durable, thick, rigid, and offer extra grip.
The most important feature to consider when choosing rose pruning gloves is their dexterity. You want a glove that is not only sturdy but also allows you to feel the roses' stems and leaves when pruning.
Leather gloves are the best choice for this because they are not only supple but also thick enough to be cut-resistant, they can also be waterproof.
Gloves made from spandex offer a good combination of dexterity and stretchiness.
Puncture Resistant
Rose thorns are painful and dangerous, especially for those who have sensitive skin. Gardening gloves for thorns protect you from all things.
Make sure that they are puncture-resistant to provide maximum protection against thorny rose bushes or any prickly branches from damaging your skin.
Some gloves may be lined with Kevlar which is a synthetic material known for its durability and toughness. Kevlar thread is tightly weaved to make the gloves puncture-resistant.
Breathability
Rose gloves should be made of breathable fabric that allows hands to stay dry and cool.
If your pair of rose gardening gloves are not made with breathable fabric, moisture build-up will occur and may lead to blisters, chafing, or other irritations.
Pigskin is the best material for breathable gloves. They do not trap heat inside and allow for better skin circulation. Further, hands that get wet from perspiration could be more likely to develop a fungal infection.
Forearm Protection
Rose pruning gloves should have long cuffs that will protect your forearms from thorns and scratches.
The length of the gauntlet varies widely depending on brand and model. Most offer protection up to or just below your elbow, but others extend further.
Some gloves also have an integrated thumb loop for extra protection.
Glove Fit
Everyone's hands are different–and each gardener has his or her preference for how they like their gloves to fit. If your fingers tend to be short and wide, you may prefer a glove with a shorter cuff; if your fingers tend to be long and thin, you might like a longer cuff.
When in doubt, it's usually best to go for a longer cuff–they can always be folded back if the gloves are too long.
A good rose gardening glove will have wrist straps that are close by velcro or a buckle. Tight-fitting cuffs are better for dexterity so you can handle thorns carefully.
Extra Protection
You may want to find a glove with extra padding, adjustable finger inserts, or reinforcement.
Some gloves are made with multiple layers of materials for protection, comfort, and flexibility. These layered gloves have leather palms and fingertips.
The palms may be covered with pigskin, which is a soft material that feels good against the skin. If you have arthritis or carpal tunnel syndrome, adjustable finger inserts can give a better fit.
Look for a pair of gloves that have a coating on the fingertips as well as the palm. Reinforcement refers to reinforcing stitching and/or wear-resistant materials added to areas of high stress, such as the thumb.
Top 14 rose pruning gloves review
1. Best Overall: Exemplary Garden Rose Pruning Gloves
These rose pruning gloves are well designed, functional, and make for an effective tool. The goatskin leather provides the best dexterity of all the rose gardening gloves we reviewed.
And unlike other types of smooth leather, this goatskin material is not too slick, helping to secure grip and reduce slippage when pruning thorns. The split suede cuff is a nice touch, protecting the wrist.
Another great feature of these gloves is the thumb design. The thumb is ergonomically shaped to provide the best comfort and grip possible.
These gloves also had better-constructed seams and a superior type of leather. Some users said the leather was too stiff, but we didn't find that to be a problem at all. It made them much easier to work with. And they run small, so you may want to order a larger size than usual.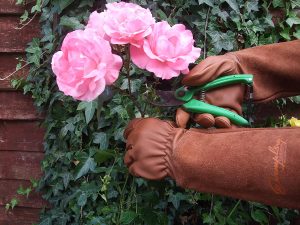 Pros
Well designed for comfort, dexterity, and grip
Superiorly crafted gloves made of high quality material
Suede cowhide cuff for extra protection around the wrist
Cons
May run small, consider ordering a larger size
2. Good for breathability: Handlandy Pruning Gloves
We tested the breathability by using it in hot weather. Perhaps the feature we liked the most about these gloves was how well they let your hands breathe.
Despite being very worn out by the end of the day, these pruning gloves were still fairly breathable. The pigskin material does a good job of keeping hands cool and preventing sweat accumulation.
The cuffs are the perfect length, not too short or loose. They fit snugly under our coat sleeves without restricting movement.
They also have a reinforced fingertip and padded palm for extra protection from scrapes or punctures. The only downside is that they run a little large, so consider ordering a smaller size.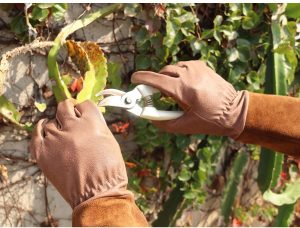 Pros
Excellent breathability
Durable pigskin material that repels moisture
Cuffs are the perfect length
Reinforced fingertip and padded palm
Cons
May run large, consider sizing down for best fit
3. Best for men: COOLJOB Rose Pruning Glove
These rose pruning gloves are specifically designed for men with men's hand sizes in mind. They have a simple design that is not too flashy but still looks good.
They are made of a synthetic material that is not only resistant to punctures, but also repels water and provides an excellent grip. It's tough enough for most landscaping projects yet flexible enough for pruning rose bushes.
The length of the sleeves is good for keeping out dirt and bugs but can be a bit restrictive. They also have a comfortable stretchy design that feels nice to wear.
The wrist is exceptionally elasticized to not hinder movement as you work.
They do a good job of protecting your hands from scrapes and scratches while still being easy to use, but they can be a bit tight on some users.
Pros
Specifically designed for men
Elasticized wrist
Good length sleeves
Cons
Can be tight for larger hand, consider sizing up
4. Best leather gloves: Euphoria garden rose gauntlet gloves
We found these to be the best quality in terms of leather gloves that we tested. The leather is tough, but not too thick. It's smooth on the inside and non-odor, which was a nice surprise.
And not only is it puncture and heat resistant, but the thornproof palm and back proved to be very effective for rose gardening. We did get a few scratches from pruning thorns, but we could have gotten them with any gloves.
The elastic wrist band ensures a snug fit and eliminates the problem of needing to size up just so they'll stay on. The only issue we had is that the leather padding around the fingers is a little tight, but not uncomfortable or restrictive during use.
Pros
Thick cowhide material
Puncture and heat resistant
Elastic waist ensures a snug fit
Thorns proof palm and back
Cons
My fingers are a little snug but still perform well
5. Best long sleeves gloves: Acdyion gardening gloves
The Action Rose Pruning Gloves are another great pair of all-purpose rose pruning gloves. We especially liked the material, which is cowhide leather. It's tough and durable without being too thick to restrict movement or pinch at the seams.
Its best feature is the extended cowhide leather cuff. It's tough, not flimsy, and it serves to protect your wrist from thorns. As well as offers the same protection for the cuff of your coat or shirt when gardening with thorny plants.
Another great feature is the thumb design. They also have ergonomically shaped thumbs, making it easier to work with small tools like clippers or pruners. And we were impressed with how well they protect your hands from thorns without impeding dexterity.
However, consider sizing down if you have slender wrists because they run big.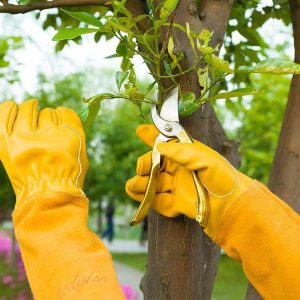 Pros
Extended cowhide cuff for extra protection
Thumb design allows for easy dexterity
Cowhide leather is tough and durable without being too thick
Cons
May run large, consider sizing down for best fit
6. Best for heavy duty: Slarmor heavy duty gauntlet
The Slarmor Heavy Duty Gauntlet Gloves are the best heavy-duty rose pruning gloves, particularly if you're concerned with protecting your arms and forearms.
They have an elbow-length gauntlet that provides coverage for your forearm, and the extended cowhide leather cuff protects your wrist or coat sleeves.
The best part is that it's made with full-grain cowhide leather that protects your hands and forearms. It's not too bulky, which keeps your dexterity free to operate tools like pruners and loppers.
But what sets these gloves apart in terms of heavy-duty rose pruning is their reinforced palm and thorns-proof coating. The extra leather on the palm area provides a lot more protection from slashes and scratches while taking care of thorns.
But keep in mind that they do run somewhat large so consider sizing down if you need them to fit snugly.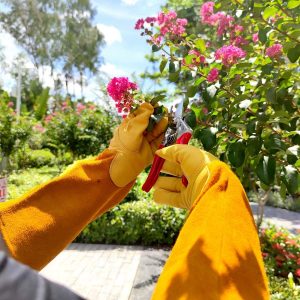 Pros
Elbow-length gauntlet for full forearm protection
Full grain cowhide leather offers heavy duty protection
Reinforced palm with thorns proof coating
Cons
May run large, consider sizing down for best fit
7. Best budget: G & F Products 2430M Florist
If you need some hand protection from scratches, or thorns from roses bushes but don't want to break the bank on some rose to prune gloves, then the G & F Products 2430M Florist Gloves are a great affordable option.
These gloves materials are a combination of synthetic leather and spandex, providing enough protection without being too bulky or cumbersome for small tasks like light pruning or deadheading. And the reinforced and padded palm provides extra protection against scratches.
Although they don't offer as much protection as other options on this list, they do have wrist protection, providing enough protection to prevent thorns from getting through.
Also, you can expect them to be comfortable and warm with their soft and pliable material.
However, they may not hold up as well as other options on this list if you're planning on tackling some more intense tasks with thorny plants.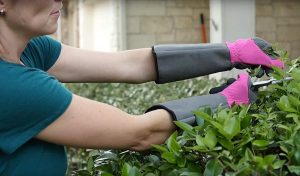 Pros
Cheap budget option
Wrist protection against thorns
Pliable spandex material offers good dexterity
Cons
May not hold up well for heavy duty rose pruning tasks
8. Best for larger hands: Digz Rose Pruning glove
If you have larger hands, you may want to think about buying the Digz Rose Pruning Gloves because they can accommodate larger hands better.
They're made with faux leather and spandex materials, making them flexible and breathable.
However, they do have a wrist cuff that provides arm protection from thorns, an extended cowhide leather cuff for further protection from scratches and debris, and a padded palm area for extra protection against scratches.
They also have nice and smooth rubber nubs on the fingertips that work great with smartphones, adding extra value for style and functionality.
They might be a little warm for very hot weather conditions though, so keep that in mind if you live in a really hot climate.
Pros
Bigger sizing for larger hands
Breathable material with rubber nubs on fingertips
Padded palm and extended cowhide leather cuff protection
Cons
May be warm in hot weather conditions.
9. Best for dry skin: Handylandy Long Sleeve Leather
If you have dry skin or suffer from eczema, then the Handylandy Long Sleeve Leather Gloves are the best option on this list because they are made with pigskin leather.
Pigskin is porous so it will breathe better than cowhide leather, which helps to reduce heat and moisture buildup within the gloves. It's also non-toxic so it's suitable for people with chemical sensitivities.
It has a pull-on closure for easy on and off use, and it will adjust to your hand size with its elastic material.
They also offer an extended wrist cuff and a cowhide guard in case you need to add adequate protection from thorns and other debris.
They're pretty durable and you can expect them to hold up well against some heavy-duty rose pruning.
But, they might run small so make sure you get one size larger than your normal size for the best fit.
Pros
Made from pigskin which is porous and breathable
Pull-on closure for easy on and off use
Extra protection from extended cowhide cuff and guards
Cons
May run small, make sure you get one size larger than your normal size
10. Best Thorn-resistant gloves : RAPICCA Gloves Bite Proof Kevlar
If you're planning on tackling some heavy-duty rose to prune tasks, then the RAPICCA Gloves are the best thorn-resistant gloves because they offer protection in all areas of your hands and arms.
They're made with split cowhide leather and kevlar material, providing the highest level of cut and puncture resistance. Kevlar provides incredible protection for your hands if you're planning to be working with some thorny rose bushes.
They also cover your entire forearm providing you with protection up to your elbow.
They're made to fit snugly on most hand sizes because they pull on closure, and they're flexible enough to allow you to do most tasks around the yard easily.
However, because of their thickness they can be a little stiff and limit your movement a little bit, so it may take some time to get used to them if you've never worn heavy-duty leather and kevlar gloves before.
Pros
Highest cut and puncture resistance
protection
Full forearm protection for added safety
Flexible and easy to use pull on closure
Cons
A little thick and stiff may take some time to get used to them.
11. Best goatskin gloves: Fir Tree Leather Gloves
Goatskin is naturally resistant to puncture and thorny plants. These Fir Tree Leather Gloves offer that same protection while also providing you with a soft and supple material to work with.
They're made with natural premium goat grain which is one of the most breathable materials. Whether you're doing heavy work or light work, you will still feel the air circulating and wicking away sweat.
Fir Tree Leather Gloves also have a cowhide sleeve that wraps around your wrist for an extra layer of protection. If your gloves get caught on something sharp they won't cut through to your skin.
The downside is that the finger area may feel a bit clumsy. The leather is thick enough to prevent thorns, but you will lose some tactile sensation in that area.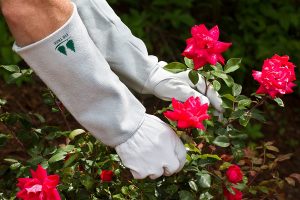 Pros
Genuine goat skin
Puncture proof
Cowhide sleeve protects from cuts
Cons
May feel a bit clumsy in the finger area
12. Best for arthritic hands: Bionic Women's Relief Gloves
If you're looking for relief from hand fatigue as well as joint pain, these gloves provide the support you need.
The relief palm padding is specially designed to relieve pain and pressure. It has a bumpy texture to help stimulate blood flow which is especially helpful if your hands are numb.
The fabric of the gloves is very flexible, but there are also areas of padding to keep your hands from getting bruised. There is a breathable leather section around your fingers and a soft cloth material on top where you would normally grip garden tools.
The only drawback to these gloves is that they run small. The fingers are especially narrow, so you may need to size up if your hand is wide.
Pros
Arthritic design
Breathable leather for grip
Padded areas prevent bruising
Flexible fabric for comfort
Cons
May run small
Finger area may feel narrow
13. Best for warm weather: Vgo Gardening Gloves
These are our best gardening gloves for warm weather. The synthetic leather palm is breathable which helps keep your hands dry and prevents them from getting sweaty and hot. You also won't have to worry about it becoming slippery when it gets wet.
The split leather cuff design helps your hand breathe even more. It's made with lightweight mesh between the fingers for enhanced air circulation.
These garden gloves are puncture-proof, so you don't have to worry about getting stuck by thorns or picking up sharp objects.
The downside is that they're not for wide hands. The fingers are specially designed to be narrow and comfortable, but if your hands are wide this may cause some discomfort.
Pros
Breathable materials
Good ventilation
Puncture proof design
Cons
14. Best for women: Bionic Women's Rose Gloves
If you've got an aggressive rose bush, these gloves are perfect for you. The Bionic Women's Rose Gloves are much more than garden or yard gloves. They're made with extra-thick padding at the palm and fingers, making them ideal for tough gardening chores like cutting roses.
The thickness of these gloves also makes them thornproof, so they'll keep your hands safe even on the prickliest roses. Plus, these gloves provide plenty of breathabilities to keep your hands cool on hot days.
The soft, supple goatskin material conforms to your hand tightly and gently flexes as you move. Since they're designed specifically for women, the Bionic Women's Rose Gloves are on the smaller side, so if you normally wear larger gloves these might not be a good fit.
Pros
Thick padding
Thornproof
Breathable fabric
Soft, supple goatskin material
Cons
Sizing runs small, so you may want to order a larger size
Advantages of Using the Rose Pruning Gloves
It can be hard to figure out if you need rose pruning gloves. If you've never experienced the frustration of cutting through rose stems with gardening tools, then you probably don't need them. But many gardeners do find the pruning process very difficult, especially with large rose bushes.
The rose pruning gloves however are designed specifically to protect your palms and fingers from the thorns, making rose pruning a simple task. Not only do they protect your skin, but they also keep your hands clean while you work so you can enjoy a clear conscience.
Another advantage is that they allow you to have more control over the plants. Fingers also give you a better grasp on the stem, letting you know just when to prune another thorny shoot.
In addition, they prevent the spread of any pathogens from one plant to another. Because they keep your hands clean, the gloves limit the risk of spreading bacteria and fungi.
How to Take Care Rose Pruning Gloves
Because most rose pruning gloves are made of materials like leather, they do not require a lot of upkeep.
It is important to remember that they have been in contact with thorns so you should inspect them closely for any damage before using them again.
Fortunately, these gloves usually last a long time if worn occasionally. You should also check for any loose threads and repair them.
Be sure to give them a good washing before putting them away for storage. Most rose pruning gloves are machine washable, though some may require hand washing.
Carefully read any care instructions before doing so because leather needs special attention when it is wet.
it is a good idea to store them properly. This means that they should be kept in a ventilated, dry place and away from direct sunlight.
How to Clean or Wash Rose Pruning Gloves
Gloves should be cleaned if they get dirty, especially if you want them to keep their protective features.
Follow these steps to clean leather gloves:
Mix a solution of white vinegar and water.
Wet a cloth in the solution and wipe over the gloves, removing dirt and stains.
Allow drying naturally. Do not place the gloves near direct sunlight while drying, as this may cause damage to them or fade their color.
Apply leather protector spray for additional protection if necessary, but be sure to test this on an inconspicuous area first.
Although most synthetic materials may be washed in the machine, hand-washing is recommended to prevent excessive stretching.
Follow these steps to wash synthetic gloves:
Fill your sink with lukewarm water and add a small amount of gentle detergent.
Place your gloves in the water and let them soak for a few minutes to loosen dirt.
Rinse the gloves under lukewarm water.
Gently press out any excess water with your hands, then lay the gloves flat to dry.
Related post: Gardening Gloves wash process
What gloves are best for rose bushes?
A pair of leather rose pruning gloves is the best choice if you want protection and dexterity.
What gloves are good for thorns?
Rose gloves made from thick and durable fabric like pigskin or goatskin are good for thorny bushes.
Can I wash gloves with the washing machine?
Some gloves may be machine-washable and need to be washed on a gentle cycle in cold water with like colors and hung to air dry.
Gloves that are not machine-washable should be spot cleaned only.
Can I wear one glove?
Some people find it best to wear two pairs of gloves for better protection against thorns.
Conclusion
Getting the right pair of rose gardening gloves will ensure that you are well protected while working in your garden.
Make sure to look for a durable pair of gloves, as rose bushes have prickly thorns.
Choose Action Gardening Gloves for a sturdy fit and long cuffs to protect your forearms from scratches and thorns.
For heavy-duty work, you can't go wrong with Slarmor Heavy Duty Gauntlet. They provide the best combination of protection and comfort, while still allowing you to work easily with rose bushes./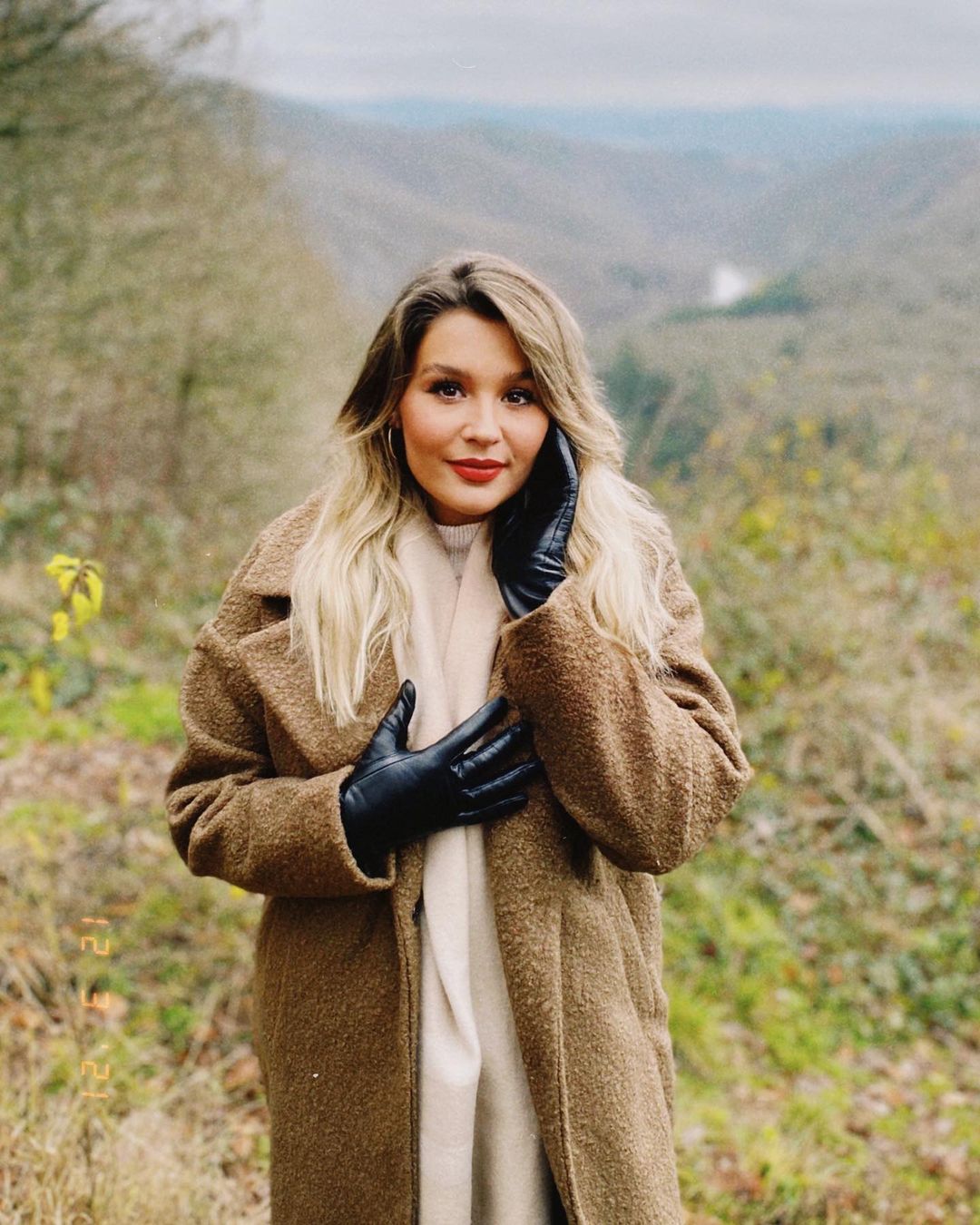 I am not a good blogger but I started blogging when I was in my college. one day scrolling my social media pages and top of the page one notification was coming like this " earn money from blogging".then I clicked that notification. After that, I was confused that which niche is better for me. Finally, I selected the niche and I was comfortable with that glove's reviewer.