In farming, protecting your hands from the materials you're handling is a primary function of work gloves. To make your farming tasks easier, and to keep your hands safe, a good pair of best gloves for farm work is a need. To choose the best glove for farm work, you must know which materials are appropriate for the task at hand.  Your job will go more smoothly and safely if you use the appropriate gloves.
Why Do Farmers Wear Gloves?
Wearing gloves is a common practice among farmworkers, as they do a wide range of duties. An important component of the job involves handling animals, utilizing pesticides, spraying fertilizer, or handling contaminated soil. A proper pair of farm gloves can protect farmworkers from hazards in the field these include:
Keeping your skin from developing contact dermatitis as a result of intense contact with hazardous materials

Prevent chemical burns by covering your hands from direct contact.

Take precautions to avoid spreading infectious diseases coming from plants or animals you're working on.

Keep your hands not cut by anything sharp whether they're tools or objects in the field.
Are Leather Gloves Good for Farm Work?
Using leather palm gloves can protect you from plant protuberances and sharp edges in the field. Leather is used to make the best grip gloves for their prominent strength and protection against abrasions. Safety cuffs that extend up to your forearms are included in these gloves to protect your hands from harm. Leather work gloves are generally more durable than other types of material.
What type of materials are used to make work gloves?
Manufacturers use different types of materials to make work gloves to achieve the desired quality. Some farmers gloves are actually made from multiple materials combined. These are some common materials used to make work gloves.
Leather
Because of its tough, moldable, and flexible properties, manufacturers have been using leather material for generations to produce safety or work gloves. There are a wide variety of animals used to make leather glove straps, and each has its own unique properties. These include cowhide leather for rigger work gloves, pigskin leather for waterproof and breathable work gloves, goat leather for more flexible gloves, and deerskin leather for freezer gloves.
Synthetic Leather
There are synthetic leathers that look and feel just like real leather, but they have additional benefits like water repellency. Synthetic leathers are created based on the appearance or look that needs to be achieved. A grainy leather look is achieved by laminating polyurethane (PU) to either polyester or polyamide. Synthetic split leather is made from polyester or polyamide and polyurethane (PU) fibers.
Cotton
Cotton is another common yet convenient choice of material for work gloves. It offers comfort and durability as it is made from natural fibers. To make it more durable, it is frequently blended with polyester in low-cost, light-duty gloves like liners. Wearers' hands may become perspiration as a result, as polyester won't absorb the sweat. 
Polyester
Polyester is a robust, elastic, and shrink-free synthetic fiber. Due to its toughness and abrasion resistance, it is often used in gloves and is typically combined with cotton or other compatible materials. Polycotton is used to make the gloves more comfortable and wearable.
Acrylic or Synthetic Fiber
Acrylic is a man-made fiber that has a soft-feeling akin to that of wool material. It acts as a thermal insulator because it traps air particles. Some thermal gloves available in the market are lined with acrylic, which is a synthetic material.
PVC
Durability, wet and dry grip, and chemical resistance are all advantages of PVC work gloves. Because it is totally watertight, it is often utilized in waterproof and chemical-resistant gloves.
Latex
When it comes to the properties of natural rubber, latex is one of the most pliable, durable, and effective materials for work gloves. For its flexibility and tight fit, latex is most typically used in disposable gloves, but nitrile has supplanted it since latex can be allergic to some people. 
Nitrile
To put it simply, Nitrile is an artificial imitation of latex. It is just as elastic, durable, and flexible, yet it is devoid of the proteins that might trigger allergic reactions. Nitrile, which is often used in disposable work gloves, can also be foamed and utilized as a coating for gloves.
Neoprene
Neoprene is a synthetic rubber that has good flexibility, and durability and offers protection against oil, fat and organic acids. The Badger UltraChill gloves have a neoprene knuckle bar for added protection and flexibility in this high movement area.
Types of Work Gloves
According to materials, functions, and other considerations, there are more than a dozen various varieties of work gloves available on the market. You can choose from a variety of gloves on the market based on your job requirements and preferences. 
Leather Gloves
Cotton or Non-coated Fabric Gloves
Fabric Gloves with coating
Nitrile Gloves
Latex Gloves
Kevlar Gloves
Aluminized Gloves
Puncture-Resistant Gloves
Impact-Resistant and Vibration-Resistant Gloves
Liquid-Resistant Gloves
Neoprene Gloves
Nitrile Rubber Gloves
Butyl Rubber Gloves
Product Reviews
1. Ironclad GUG
Ironclad's General Utility Work Glove is yet another glove designed to serve a variety of functions. Work duties necessitate the abrasion resistance of Ironclad GUG's work gloves. This general-purpose glove weighs in on safety, fitness, and convenience.
Materials & Construction
The most popular Ironclad work glove is constructed of nylon and synthetic leather. Using an adjustable hook and loop enclosure ensures a precise, comfortable fit. Keeping the work gloves in your hands is a cinch at this stage, thanks to their solid structure.
Protection
The knuckles are protected from abrasion and impact by the thermoplastic rubber material. So, if you're working in a particular farming job site in a moderately dangerous environment, you're likely to be adequately protected. When it comes to abrasion resistance and medium impact absorption, it does a respectable job.
Performance & Convenience
You can perform a variety of operations with no issues with Ironclad GUG when doing arboricultural work. There are a total of 16 application-driven measurements included in every pair of Ironclad gloves, ensuring the greatest possible fit. Having better physical health is unquestionably beneficial to one's quality of life.
Pros
Versatile

Good protection

Comfortable

Great value for money
Cons
2. G & F Product Utility gloves
G & F Product Utility gloves are basically high-performance mechanic gloves that would likely be an excellent choice for farming works. Coming in a value pack of three glove pairs, these gloves could be a great deal if you need spare farming work gloves.
Materials & Construction
Synthetic Leather is a robust, durable, and shrink-resistant material that can withstand the rigors of everyday use. Stretchable portions in the grip provide more dexterity and control. For construction, mechanical, roofing, and maintenance, these gloves are suitable, therefore, so are farming works. Contains three pairs of large-sized work gloves made of sturdy yet soft cotton.
Protection
Elastic wrist cuffs allow you to keep the gloves in place and block off debris. It's perfect for a wide range of everyday tasks in the construction and logistics industries. It's also great for woodworking, livestock, and farming works where wearers are exposed to abrasive tasks and the environment.
Performance & Convenience
For all-day comfort, these shoes are lightweight and breathable. Easy-to-remove cuffs make it simple to put on and take off this jacket. Save time by using your touchscreen instead of your glove. In addition to providing long-lasting durability, the synthetic leather palm with foam within provides further resistance and protection to tear and wear. With its stretch spandex back and neoprene knuckles, this glove offers great dexterity and breathability.
Pros
Shrink resistant

Versatile

Comfortable

Durable 

Protective enclosure

Flexible 
Cons
3. G&F Product 3100
You can save money by using G&F products for your farming work. Double-coating and a sense of heavy-duty use make this an ideal alternative for farmworkers. Rubber-based gloves are an excellent option if you like to switch out your gloves frequently or have a large number of extra pairs.
Materials & Construction
These latex-dipped gloves come in handy for a variety of manual labor tasks, including farm work. Latex coatings that have been double-dipped improve the overall durability of the clovers. The gloves adopt a cotton blend technology where blue latex is used to coat the rubber. 
Performance & Convenience
Overall, this work glove is fine for farming work; it's just more handy to have more extra pairs on hand. A large stock of work gloves means that you won't have to scurry for gloves at the last minute ever again. Keep a spare pair in the glove box that you can access anytime you need to change one.
Pros
Economical

Comfortable

Many spare pairs in the pack

Complete protection

Nice grips
Cons
Less durable

Slightly shorter than the universal size chart
4. HANDLANDY Work Gloves
HANDLANDY's product in this list is the utility mechanic working gloves that would be a great choice for farming works. The breathable construction, flexibility, and touch screen capability are among its advantages. Complete sizes are also available for this particular glove product.
Materials & Construction
Snug, secure fit is ensured by the neoprene cuff's hook-and-loop strips closing on the mechanic gloves. The knuckle and palm are fully covered with synthetic leather that sets a solid construction. The work gloves have flexible and breathable construction that offers better comfort for farming works.
Protection
In addition to providing all-day comfort and protection from vibration and impact, the synthetic leather palm and knuckle padding of these utility work gloves provides further protection from these forces. However, it's not a practically heavy-duty work glove so having a spare pair is highly recommended.
Performance & Convenience
HANDLANDY work gloves are both flexible and breathable so they can keep your hands cool and comfortable while you're working on the farm sites.  It has compatible sizes for men and women. It's more convenient to wipe the sweat on your face with terry cloth on your thumb, so you don't have to take your eyes from the task at hand. To use your phone or tablet, you don't have to remove the gloves if you have Touch Screen Work Gloves.
Pros
Complete light-duty protection

Thumb terry cloth

Complete size chart

Touch screen capable

Great design
Cons
5. OZERO Leather Work Gloves
Looking for leather work gloves? Here we go with OZERO's products. The gloves are designed for heavy-duty jobs that are certainly suitable for farming work. However, OZERO leather gloves offer further advantages for people working on the farming sites.
Materials & Construction
OZERO gloves are made of 100% full cowhide leather and designed for abrasive resistance. With a thickness depth of 1.0mm-1.2mm, the leather is both robust and strong while also supple and flexible, and it has a reasonable level of oil resistance while resisting cut, tear, and puncture when farming.
Protection
The full leather construction provides decent protection for farming works. In order to keep the seams away from the palm, OZERO working gloves offer a higher level of durability and flexibility. Your hands will be able to move more freely thanks to our keystone thumb design and the reduced tension on the seams without compromising the protection degree.
Performance & Convenience
With a reinforced palm patch and elastic wrists, OZERO leather work gloves provide excellent grip and wear resistance while remaining roughly protecting. In order to keep any dirt or debris from getting inside the glove, the glove has an elastic wrist construction.  Cowhide leather is also comfortable with breathable and sweat-absorbent characters.
Pros
Full leather

Optimum protection

Breathable and flexible construction

Reliable performance

Waterproof

Heavy-duty
Cons
No lining(scratchy inner)
6. COREGROUND Leather Safety Work Gloves
COREGROUND comes with other leather safety work gloves. As it offers heavy-duty performance for truck driving, carpenter, and gardening, you can definitely wear it for farming works for sure. Coming with a complete size chart, COREGROUND work gloves are suitable for men and women.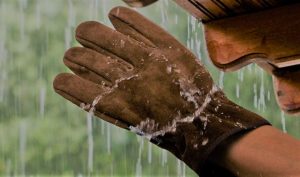 Materials & Construction
COREGROUND leather work gloves are made of 100% split cowhide that built solid, long-lasting construction. The construction has also become water-resistant, thanks to the tanning process. This also makes the leather gloves versatile and reliable for farming works.
Protection
The material and construction can resist high temperature, abrasion, punctures, and cuts better than others. You can work safely on the farm site with COREGROUND leather safety work. It's particularly designed for heavy-duty jobs so it would last longer and wear in the field longer than non-leather work gloves.
Performance & Convenience
Because the fingers and palms are sewn together independently, these gloves are very long-lasting and flexible. Our keystone thumb seams are less stressed, allowing our gloves to endure longer while also improving dexterity and range of motion. However, a lining is recommended to improve the comfort.
Pros
Full cowhide leather

Durable

Water-resistant construction

Reliable dexterity

Complete size range
Cons
The lining is advisable due to scratchy inner
What to look for buying the best farm work gloves
When choosing work gloves for farm work, there are different factors you should consider before purchasing any product. You weigh these factors into your purchase decision so you choose the best farm work gloves available in the market.
Material
In the end, it is all about the glove's manufacturing material for the glove's construction. Glove durability, protection, and water resistance/repellents are all dependent on the material used to construct them. Genuine Leather should be used in the construction of your waterproof farming gloves. If you can't afford genuine leather gloves on your farm, you can choose synthetic leather ones. Waterproof work gloves can be made using a leather-rubber combination.
Padding
It is not mandatory for agricultural farmworkers to wear work gloves with padding, but a little padding in the areas where they are most likely to be hurt would be helpful. With a little cushioning, you can protect your thumbs, knuckles, and fingers. You don't want to wear gloves that are too flimsy because they'll make your hands heavier.
Dexterity and Comfort
The palm of a labor glove differs slightly from the palm of a standard glove, allowing for easy differentiation. Think about whether or not your grasp is improved by using your palm.  To be able to wear leather gloves or a long period of time, they must be easy to put on and take off. The construction should have flexibility and breathability aside from the grip and protection. Generally speaking, they have to be comfortable when used. 
Protection
The palm of a labor glove differs slightly from the palm of a standard glove, allowing for easy differentiation. Think about whether or not your grasp is improved by using your palm.  To be able to wear leather gloves or a long period of time, they must be easy to put on and take off. The construction should have flexibility and breathability aside from the grip and protection.  Generally speaking, they have to be comfortable when used. 
Size and Flexibility
Size is another fundamental element you should consider when choosing work gloves. The last thing you want are gloves that are too big. Do your research and buy the right sizing. To minimize constraining movement, the gloves must be especially well-fitting. A wide range of sizes is offered for farm labor gloves, from small to extra-large(a different spectrum is possible). By following the measuring criteria to the letter, you will be able to discover your actual measurements. Measure your palm area and fingers when looking for proper gloves.
FAQ
What Gloves Do Farmers Use?
Workers should wear latex gloves even if there are no visible pesticide contaminants or other hazardous chemicals on the plants.  Nitrile gloves have overtaken latex ones in terms of popularity among farmworkers. However, diverse types of work gloves are still used in farm work. 
What Are High Dexterity Gloves Used for?
Dexterity plays a crucial role in hand protection and overall control performance. In the field of occupational safety and health, high-dexterity gloves are highly recommended or even mandatory. As a result, they see the value in improving security and performance.
Which type of work gloves lasts the longest?
Leather work gloves are consistently the most sturdy and long-lasting among different types of work gloves on the market.  Some products with kevlar reinforcement might also show similar properties.
What Should I Look for in a Work Glove?
Hand protection from burning chemicals, abrasions, or sharp edges may be as simple as wearing leather farm gloves when doing tasks. Aside from knuckle protection, a hand protector may better include padding for the palms and fingers or additional protection layers.
What is the toughest material for work gloves?
Goatskin is considered to be the toughest and most long-lasting leather you can get your hands on. In addition to being waterproof and abrasion-resistant, the skin's natural lanolin work gloves. makes it supple and comfortable when used to make. If you need fine dexterity, you'd benefit greatly from the material's properties.
Final Thoughts
As a farmworker, you need gloves that can resist the physical demands of the particular tasks and still allow you to operate your hands freely. A pair of best gloves for farm work that keeps you safe without restricting your mobility is an excellent choice. Gloves are mostly protective but rubber, foam, and other types of materials are used to add more protection properties. Most of the time, synthetic and real leather gloves are widely chosen so are the nylon gloves. As a result of having read the foregoing, you should have a clearer understanding of what work gloves you actually need.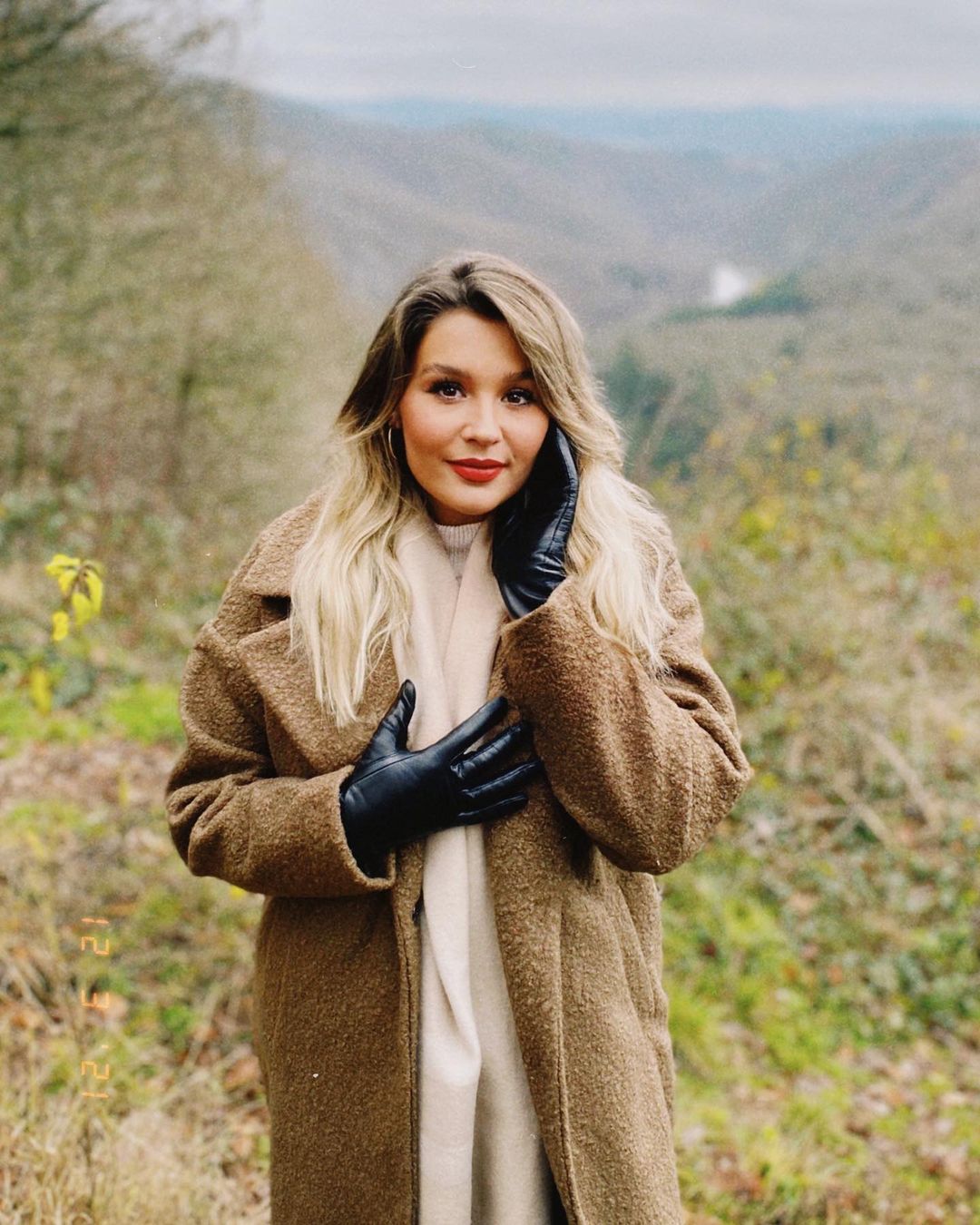 I am not a good blogger but I started blogging when I was in my college. one day scrolling my social media pages and top of the page one notification was coming like this " earn money from blogging".then I clicked that notification. After that, I was confused that which niche is better for me. Finally, I selected the niche and I was comfortable with that glove's reviewer.