Heated gloves are simply a major breakthrough in the motorcycle accessory industry. They have gained massive popularity among motorists as the gloves can keep their hands warm when riding during cold weather. Today, there are many motorcycle glove products available in the market in various designs and technical specifications.
It could be challenging to find the best heated motorcycle gloves but we've actually reviewed some products to start with and bought a guide as well as care and maintenance tips below.
Best 4 Heated motorcycle gloves review
1. Savior heat gloves
Savior Heat is a striking heated glove brand for sure coming in a unisex design with combined material and rigid construction. It's a battery-powered glove that offers both comforts, safeguard, and a great warming experience. It has everything you need to support your riding and outdoor activities.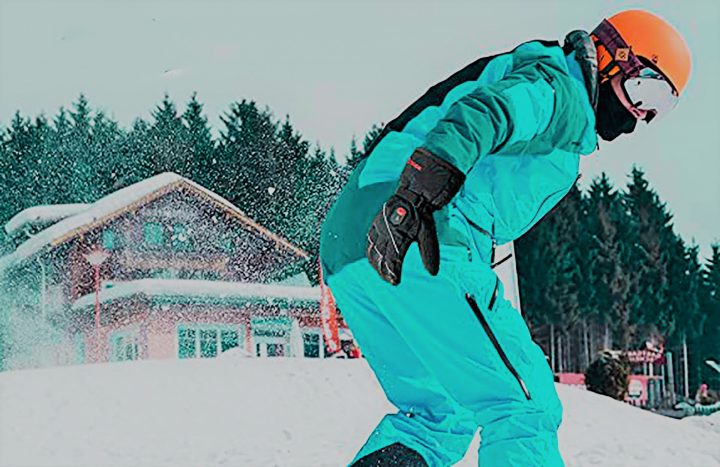 Rigid and Comfortable Construction
Savior Heat gloves are constructed with lambskin and polyester in a ratio of 4:6. The Heating elements are sandwiched by the external layer and soft cotton lining. Layers are added to ensure waterproof and windproof capability. While the construction prevents the subsequent leaks, it still allows your hand to breathe inside the gloves.
Temperature Control
The temperature control installed in Savior Heat certainly optimizes the battery power and extends its life expectancy when used properly. You have the typical low, medium, and high settings that can be adjusted to achieve more efficiency. Let's say the weather isn't too cold, you can simply set the glove heat to medium or low so you can save battery power for a longer ride.
Extra Grip and Touchscreen
Savior Heat is basically an all-purpose heated glove but it's certainly ideal for motorcycle gloves because it has extra grip. It's also already touchscreen capable so you can operate your smartphone or mobile devices without taking off your gloves. This is very important if you're counting your phone for GPS visuals.  Motorists would find it very practical because they can easily access their phones even when still wearing gloves.
Pros
Versatile glove
Temperature control
Rechargeable battery
Comfortable and rigid construction
Touchscreen friendly
Unisex
Cons
A little bit of hassle in maintenance(spot cleaning)
A little bit bulky
2. Gerbing Men's G4 Heat Gloves
Gerbing Men's G4 is a 12V battery heated motorcycle glove that brings technology advancements to support comfort and decent heating performance. The developed insulation and no-frill construction keeps your hands warm and protected when riding the motorcycle. It's a plug-in glove that offers extended warming performance for longer riders.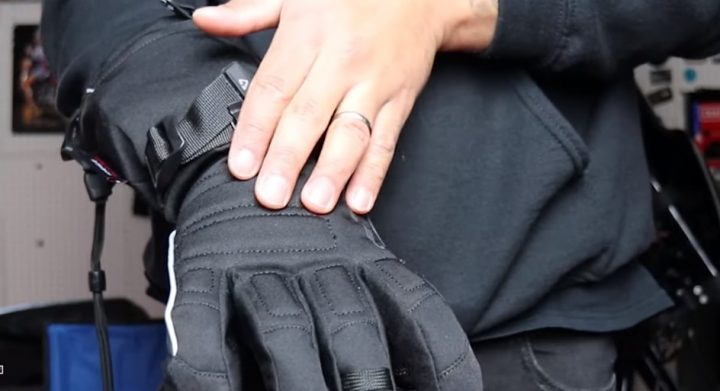 Interconnected System
You can certainly connect Gerbing Men's G4 to the electric power source of your motorcycle or any vehicle with a 12 V battery output.  With a single battery harness of your vehicle, you can expect endless warming from the gloves during your ride regardless of the speed, temperature, or the surrounding environment. You can use either the battery harness or Y harness if you want to activate the on-off switch and/or temperature controller.
Microwire Heating
Gerbing Men's G4 already comes with Microwire technology that allows the lining to distribute the heat more evenly to your palm, backhand, and all of your fingers. The manufacturer uses patented micro-sized stainless steel fibers to achieve this performance. They also put waterproof coating to wrap up the construction that delivers more comfort and humidity protection.
Comfort-Fit
Gerbing Men's G4 is also designed for comfort fit with the adjustable velcro wrist closure. It would confirm the dimension of your hands more properly. This setup allows the Thinsulate insulation to optimally warm your hand more consistently. It's very light and less bulky than most comparable gloves.
Pros
Interconnected systems ensure optimal heating performance
Water-resistant
Comfort-fit design
Thin insulation
Less bulky design
Advance technology
Cons
Temperature control is separated
3. Highway 21 Heat Gloves
Highway 21 is a battery-powered, radiant heated motorcycle leather glove. It comes with everything you need to keep your hands warm when riding your motorcycle from thin insulation to a heat temperature controller. It's a dedicated heated glove for motorists with bespoke design and construction. Highway 21 is certainly one of the top choices in the market when it comes to battery-powered heated motorcycle gloves made from 100% leather.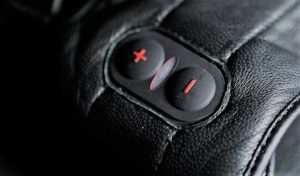 Light Thinsulate Insulation
Highway 21's manufacturer is very confident with the construction and heating performance so they decided to put 100-g Thinsulate and Hipora liner. This application allows the gloves to be lighter and slimmer than the ones that use heavier insulation without sacrificing the heating performance. That also compensates for the use of full leather material that's typically heavier than synthetics.
Touchscreen Friendly
The engineered construction also allows gloves to work on a touchscreen with no problems. No more hassles when you need to access your phone when wearing heated gloves. Since it's cordless, the accessibility of touchscreen devices is even improved. The feature is also essential if you need a visual operation on GPS for instance.
Accessible Heat Controller
Highway 21 gloves already have heat control that you can easily access before your wrist. There are "-" and "+" buttons that allow you to lower and increase the heat that's available in three settings. We also found that the heating control is quite responsive so you can feel the change of temperature pretty much immediately.
Pros
Battery-powered with Li-ion battery
Solid construction
Breathable material
Slimmer design
Accessible temperature control
Waterproof and windproof
Touchscreen friendly
Cons
Durability issues on heating components
Short warranty period
4. Masontex Heat Gloves
Masontex is a game-changer in the battery-powered heated motorcycle glove scene. It has everything you can expect from a high-performance battery-powered glove since the manufacturer has an extensive range of heating outfit products from top to toe. The gloves offer advantages for riders as we've highlighted below.
Solid Construction and Performance
The solid construction of Masontex gloves allows the heater to have optimum performance so you can expect higher efficiency. You can use it on a rainy day or heavy snow and the gloves would heat your hand almost immediately. As for the constant use, the construction that's made from lambskin and polyester in a 4:6 ratio preserves the heat well with the help of soft pearl cotton lining.
Optimized Battery Life with Leveled Heating
Masontex has been in the heating outfit industry for a while so it's not surprising that the heated gloves already comes with a temperature controller. It has the typical three-level setting that you can access with the control button. Even for the highest setting, you can get the outdoor heating for up to2.5 hours while the lowest setting allows the gloves to warm your hands for up to seven hours.
Enhanced Grip
Most importantly, Masontex heated gloves work perfectly for motorcycles even though it's also a versatile glove. We can expect a firm and non-slip grip with the same setup as the manufacturer's ski gloves. The enhanced grip is also supported by touchscreen compatibility on the finger parts. This way, you can access your phone with your fingers without necessarily taking off the gloves.
Pros
Powerful, optimized battery life
Three heating levels
Striking design
Combined material for better construction
Touchscreen compatible
Reliable performance for outdoor uses
Cons
No thin insulation
A little bit bulkier
Benefits of heated gloves
If you plan to continue driving your motorcycle in the winter, heated motorcycle gloves are definitely something to consider. The glove's indeed heating components help to keep the fit blood flowing properly. Therefore, you can be certain that your fingers will retain their sensation, which is critical when riding a motorcycle. Heated motorcycle gloves are typically equipped with a waterproof insulation system and breathable construction, ensuring that your hands remain warm and dry while riding the motorcycle in cold weather with high humidity.
1. Superbly Comfortable
The biggest advantage of using Battery Heated Motorcycle Gloves is the increased level of comfort they provide when riding in frigid or extremely cold temperatures. Heated gloves keep you warm in such extreme conditions thanks to the insulation but you can still be riding your motorcycle properly.
2. Keep Your Hands Warm
Motorcycle gloves with heated palms usually have waterproof constructions. You'll stay warmer because your hands aren't getting cold. As a result, it is useful and practical to be used in the cold weather whether it's snowy or raining.
3. Improved Blood Flows 
You can keep your hands from going numb by increasing the temperature inside the insulated gloves. This is essential if you want to ride your motorcycle safely because you can obtain full control even when wearing heated gloves.
Types of Heated Motorcycle Gloves
There are three major types of best-heated motorcycle gloves available in the market that you can choose from. The differences between these gloves include how they're powered and how they're heating your hands. We've also highlighted some upside and downsides of each glove below.
1. Plug-in Gloves
Motorcycle gloves that heat up are usually connected to a power cord that runs off of the motorcycle's dc power. The cords generate the heat that warms your hands. When you use this type of glove, you get a lot of energy and a lot of heat out of it. The downside is that you are tied to the motorcycle, and they aren't very easy to move around.
2. Battery-Powered Gloves
It is easy to use battery-powered motorcycle gloves when you want to wear them when you're on and when you're not on your bike. Some are manufactured with a lithium-ion rechargeable battery that lasts for a few hours before needing to be charged again. Waterproof and windproof are advanced features of these gloves. However, they usually don't keep your hands as warm as gloves that can be plugged into your phone.
3. Liner Gloves
You can't wear this third category of the glove without other gloves as the outer.  These gloves are supposed to be worn within another pair of motorcycle gloves. The gloves can be worn with any outer motorcycle glove you want, so you can switch them out as the weather changes. That's why it's called the liner gloves because they work as lining instead of standalone heated gloves. Because they have two layers of gloves on, it can be unsafe if they move around while you're riding your motorcycle.
How to Buy Heated Motorcycle Gloves
When you're shopping for your heated motorcycle gloves you must consider some factors including features, technical specification, and any preference. We've highlighted some points that you can guide when choosing glove products in the market below.
Size/Dimensions/Measurement
Heated gloves that don't fit properly should be avoided at all costs. Make sure your gloves or liner aren't too tight, as this could put your safety in jeopardy. A soft tape measure can be used for this purpose because each manufacturer's sizing chart could be different. Then, measure the length of your hand from the wrist to the fingertip. Go up a size if your fingers are very lengthy.
Safeguard Capability and Features
The capacity to protect your hands from an impact is the most crucial consideration while looking for motorbike heated gloves. Armor and extra padding around the knuckles make the best motorbike heated gloves. Stressful conditions will also serve to reinforce them. Also, the palms should be covered in materials that are resistant to abrasion, such as leather.
Battery Life(for battery-powered gloves)
With motorcycle heated gloves, look for ones that have long battery life. It's important that they have speedy recharging capabilities, as well. In really cold weather, though, the battery's lifespan may be shortened.
Heating Element Installation
Motorcycle gloves' heating elements can be installed in one or another way depending on the manufacturer's design and technical considerations. Try to get gloves that will keep your fingers and hands warm. These are the parts of the body that are most vulnerable while riding. When it comes to long-distance rides, heated palms are handy, but they're not necessary if you have heated grips. So, it can be in the area of preferences as long as it doesn't affect the overall heating performance.
Temperature Control Capability
The majority of heated gloves allow you to control heat temperature for at least three settings(low, medium, high). This particular control would be critical if you're using battery-powered gloves for obvious energy-saving reasons. It's because you can certainly save battery power if you're setting the temperature as low as needed. Well, you're not riding only in the winter, right? The temperature control on plug-in gloves are a matter of preference and you can typically find the interface on the cord or on the gloves themselves.
The Whole Construction
You might also want to go deeper in considering the materials and construction of the gloves. Check if they're using synthetic or animal leather and how the gloves are constructed. This way, you can expect lifespan, durability, and overall quality. You might prefer synthetic to animal leather for ethical reasons.
Customer Feedback
In the end, motorcycle gloves are just like other products when you're shopping for them in the market. At this point, it's always insightful and helpful to check the customer feedback on the product. You can then review the user experience and get insights about the quality, specs, or even the after-sales services.
Care and Maintenance
With a heating element and possible battery inside, heated motorcycle gloves would need slightly special care and maintenance for after usage and storage. Please follow our guide below.
After Usage
Before each use, make sure batteries are fully charged.
Do not turn on the power unless your hands are freezing. It's best to turn the power off or to a lower setting if your hands aren't cramping.
Whenever you leave the office for a break or a meal, turn off the electricity.
The gloves and mittens should be stored in a cold, dry area after each use.
Storage(especially for a long time)
In order to fully drain the batteries, turn on the power and leave it on for as long as necessary.
Now recharge the batteries to half their capacity, and then proceed as normal. A half-charge takes around two hours.
When you're done using them, take them out of the gloves/mittens and put them away.
Always keep your gloves or mittens cold and dry.
Repeat the preceding instructions every six months if you're storing for more than six months.
FAQ
Are Heated Motorcycle Gloves Expensive?
Even non-heated high-end motorcycle gloves can be more expensive than battery-powered heated gloves. Even if these heated gloves are more expensive than the generic ones, the extra warmth they provide in frigid temperatures makes them an excellent investment. If you like, you can purchase a thin heated glove to wear underneath a standard pair popularly known as liners. However, you should size up for the additional pair you purchase for outer gloves.
Are Heated Gloves Bulkier Than Regular Gloves?
Even though heated motorcycle gloves, especially the battery-powered ones, are more likely to be bulky than summer or racing gloves, this isn't necessarily a bad thing. As with conventional winter riding gloves, heated motorcycle gloves are popular due to their thin wiring and heating
How do heated motorcycle gloves work?
Batteries are the most common source of power for Battery Heated Motorcycle Gloves, however, some are hooked to the battery of your motorcycle or another external battery source. Wires are used in certain gloves, while heat-conductive materials are used in others to heat your hands.
Does heated motorcycle gloves actually work?
Unlike traditional gloves that preserve the default of your hands, heated motorcycle gloves can literally transmit heat and warm up your hands when wearing them. They're very useful if you're riding in cold winter because they can keep your hands warm along the ride.
Final Word
Heated gloves are certainly a must-have accessory especially for motorists who consistently ride their bikes even in the cold weather. They keep your hands warm while riding the bike so you can have better control during the ride. It's very important to choose the best-heated motorcycle gloves that support your outdoor actions. If you desire more flexibility battery-powered gloves are your go-to solution but you can certainly use plug-in gloves if you expect longer heating performance.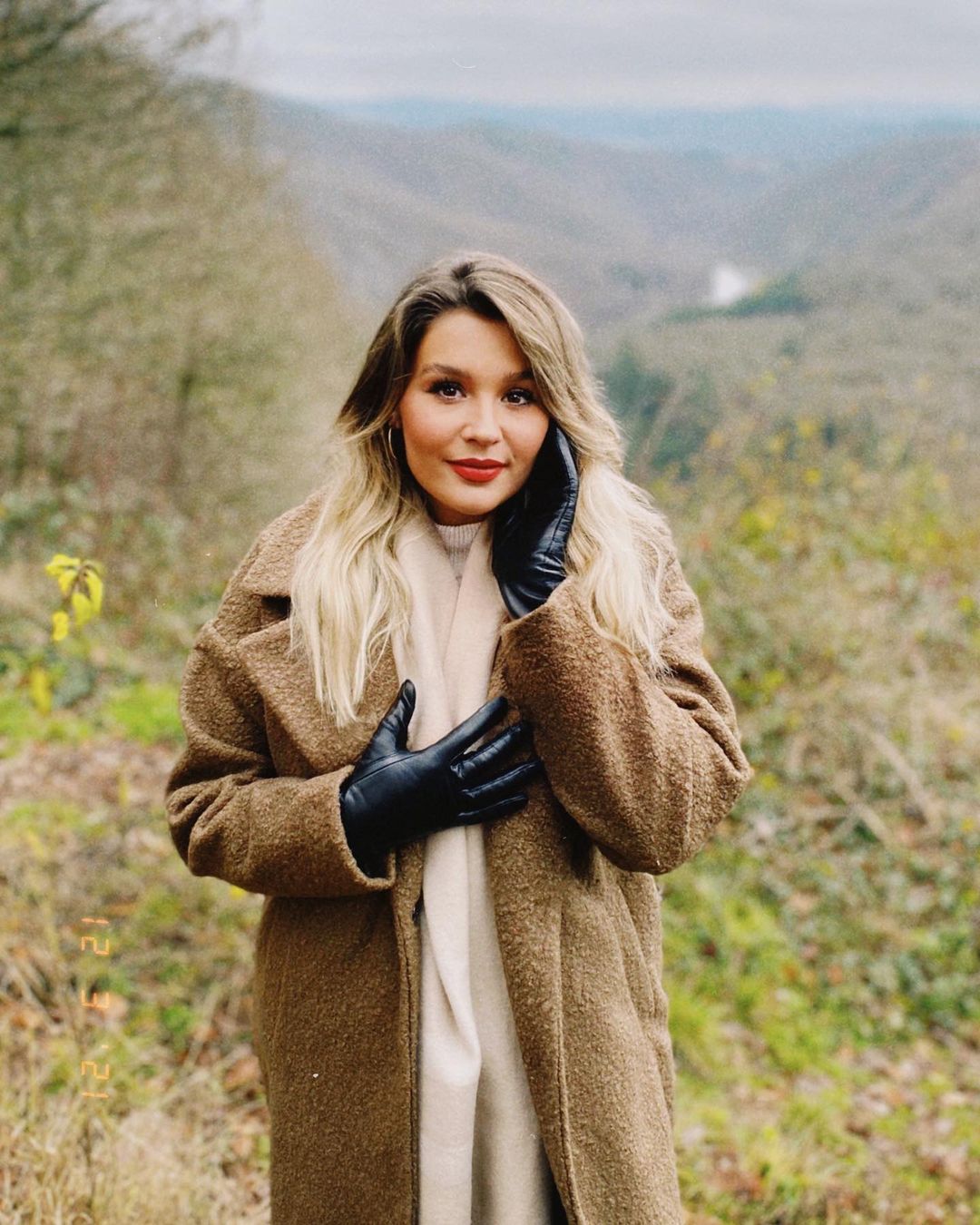 I am not a good blogger but I started blogging when I was in my college. one day scrolling my social media pages and top of the page one notification was coming like this " earn money from blogging".then I clicked that notification. After that, I was confused that which niche is better for me. Finally, I selected the niche and I was comfortable with that glove's reviewer.