Winter is always long, and so you need to find out which best work gloves for cold weather you should buy. People's responses to winter differ. Some people like winter while others do not. Irrespective of the category of people you belong to, cold hands don't help get tasks done. You can look out for the best work gloves for cold weather so that the weather will not negatively impact your work.
In this article, I will be showing you the best work gloves for cold weather and where to get them at the most affordable prices. Let's consider some types of gloves based on the materials with which they are made.
Types of Work Gloves for Cold Weather
There are many factors to consider before choosing which glove is best for you because, for each task, a unique glove might be required.
However, the most important factor to consider is your safety. Ask yourself: will this glove protect my fingers as I work? If the answer is yes, then consider if it is appropriate for your work.
Canvas: Gloves that fall into the canvas category are made of fiber and a few other synthetic ingredients. Canvas gloves are ideal for use where the work being done requires protection from moderate cold and heat. Also, you should consider canvas gloves if abrasion resistance is necessary.
Leather: Leather gloves also prevent exposure to moderate temperature, but they are not ideal for controlling exposure of the fingers to moderate temperature as canvas gloves do. However, leather gloves are useful when your working area exposes you to sparks, chips, rough objects, blows, and so on.
Metal Mesh: Metal mesh gloves are aluminized gloves. While using these gloves, you should wear synthetic material to protect the skin's surface.  If your work requires you to hold objects, metal mesh gloves are ideal for you.
Why Use Work Gloves for Cold Weather
Your hands are far from your heart. Hence, cold hands might be inevitable during cold weather. Sensitivity of the hands is lost when it becomes numb and cold.
Once the hands' sensitivity reduces, it might be not easy to control any material you hold.
Hence, cold weather gloves help you to prevent heat loss and increase sensitivity during cold weather.
Top 6 Winter Work Gloves Reviews
Now, let's consider some best heavy-duty winter work gloves you can buy that offer you warmth, soft interior layering for your skin, and a strong exterior.
1. Mechanix Wear Especially For Cold Season
Mechanix has a wide range of gloves with unique appearances. Mechanix wear protects your hands from injuries such as soreness, blisters, and so on.
Mechanix wear comes in different sizes and colors to meet the demands of customers worldwide. There is a range of sizes from XXX-small size and also to the XXX-large.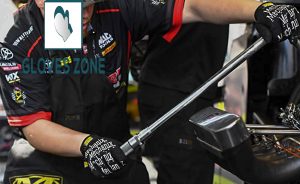 It doesn't matter the color or size you choose; Mechanix always comes in a pair of breathable and durable gloves. The material on the back and palm of Mechanix gloves are different.
The gloves' palms are lined with leather, while the back is made with a mesh-like material.
Key Features of Mechanix Gloves
Synthetic leaders are used to making Mechanix Wear gloves.
It has a range of sizes from XXX-small to XXX-large to meet customers' demand.
It has many colors, including yellow, blue, red, brown, black, and grey.
It has a strap to determine the tightness of the gloves when worn. The strap is at the wrist part of the gloves.
Pros
The gloves breathe well when used in the summer.
The gloves are inexpensive.
The gloves are made of tough materials.
They are light and convenient to use.
The gloves have a leather lining in the palms.
They are soft and also snugly fit.
Cons
The gloves have little to no padding.
During winter, the gloves are not as warm as expected.
The gloves are not made sorely for MTB.
They are thin.
Pricing
The prices for Mechanix gloves are not fixed. What determines the amount you pay is the version you want to purchase. The prices of Mechanix commercial-grade gloves are listed below:
Commercial grade utility: this grace has reinforced fingers with quality leather material.
Commercial grade framer: this grade has the fingertips open, effective palm protection, and a well-padded top.
Commercial grade heavy duty: this grade provides effective protection with palm-lined leather.
Check the latest price for Mechanix work gloves here.
2. Mechanix Wear Resistance Touchscreen
These gloves come in various sizes, from XXX-small to XXX-large. They have hook and loop closure types.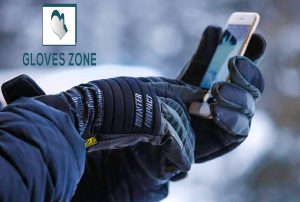 Key features of these gloves include:
Touch Capable: This feature allows the gloves to touch any screen devices such as mobile phones, iPods, and so on when the gloves are in use. The touch capability feature is due to the conductive material on the thumb and index finger of the gloves, which enable an efficient screen touch feature.
Secure Fit: A velcro strap is present on the wrist to ensure a precise and tight fit of the gloves.
Gripping Power: The gloves are reinforced by Rugged Armortex, which ensures that abrasion is resisted when used for gripping.
Wind Protection: The gloves have outer SoftShell, which keeps cold air from sneaking into the gloves.
Insulated Protection: These gloves have a feature that keeps the arm warm, and this is done by trapping warm air.
3. Men's Deerskin Winter Work Gloves 100-gram 3M Thinsulate
Men's Deerskin Winter Work Gloves keep the hands warm and ensure the hands are kept from harmful elements.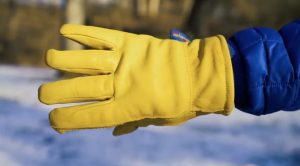 It is recommended for use for weather control and activities such as Equipment Operation, Driving, etc. However, the product is not ideal for heavy abrasive tasks.
The product is ideal for weather control.
The product is made from 100% deerskin. The gloves are comfortable to wear because the deerskin from which it is made is flexible and soft. However, they are not suitable for heavy-duty tasks.
The product warms the skin without bulk.
The gloves are kept secure and safe as one works because the elastic fits snug at the wrist.
It is Ergonomic reinforced such that maximum comfort is provided by the Keystone thumb and leading to improved agility.
They have a wide range of uses, including power tool usage, maintenance, driving, shooting, roofing, and so on.
Features
Customers rated work gloves 100-gram 3M Thinsulate 5.0/5.0.
For comfort, the product is rated 4.5.
Customers indicated the product as good value for money and are rated 4.3 out of 5.0.
In terms of durability, the product is rated 3.7.
How to Determine your Size?
Get a tape and wrap it around the widest part of your hand but exclude your thumb. Take the measurement and ensure it is in inches.
Once the measurement is taken, compare the measurement with the available standard provided to know the best size for you.
Pros
Flexible feel with a buttery soft when touched
Good for use while doing tasks such as maintenance, driving, power tool usage, gardening, etc.
Excellent insulating material.
Excellent warmth and comfort.
Excellent ergonomic thumb style.
Thumb flexibility.
Perfectly stitched in the palm area for easy use.
Cons
Product not ideal for heavy-duty tasks.
Abrasion resistance is not good enough.
It has little puncture resistance.
Poor water resistance.
4. Wells Lamont Men's HydraHyde Leather Winter Work Gloves
Wells Lamont Men's HydraHyde Leather Winter Work Gloves are made focusing on users' comfort. The product is made from cowhide leather, and that makes the product score high on abrasion resistance.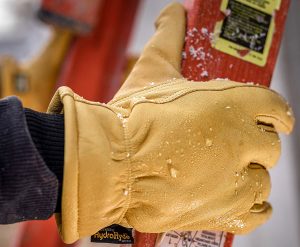 The palms of the gloves are made with leather which accounts for the excellent durability and grip of these gloves. It has a wide range of use, such as in works within the yard, shoveling snow, and so on.
Other features include:
Breathable and water-resistant.
Excellent abrasion resistance.
Fleece lining that Thinsulate insulation.
Provision for durability and extra grip.
Adjustable knit wrist to ensure debris and snow are kept from getting into the gloves.
Sizes
Get a tape and wrap it around the widest part of your hand but exclude your thumb. Take the measurement and ensure it is in inches.
Once the measurement is taken, compare the measurement with the available standard provided to know the best size for you.
Pros
Water-resistant.
A tight wrist keeps the cold away.
Shirred wrist to make sure the gloves are in place as you work.
Product provides warmth without bulk.
Strong resistance to puncture.
Cons
5. Men's Heavy Duty Leather Winter Work Gloves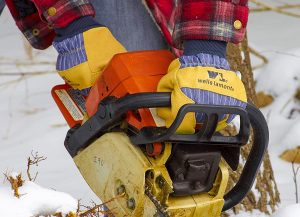 Features
The gloves are insulated with 100-gram  3M™ Thinsulate™, XL – Grain pigskin leather palm that provides warmth when the gloves are used.
The gloves have a wing thing which impacts more flexibility. The features of the gloves are described below:
The gloves' leather is resistant to abrasion and tough.
The gloves have 100-gram 3M Thinsulate insulation as a warmth factor.
The gloves are fleece-lined with a winged thumb which provides a flexible fit.
Since pigskin resists abrasion and water naturally, it makes the gloves excellent water-resistant.
The gloves have a knit wrist that prevents cold from the gloves.
Sizes
Get a tape and wrap it around the widest part of your hand but exclude your thumb. Take the measurement and ensure it is in inches.
Once the measurement is taken, compare the measurement with the available standard provided to know the best size for you.
6. Vgo 2-Pairs Freezer Winter Work Gloves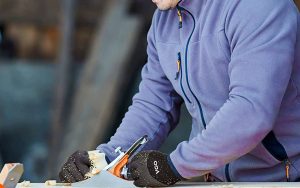 Features
These gloves are ideal for gardening, auto industry, construction, warehousing, logistics, hand tools, and so on during cold weather.
The gloves are coated with natural foam latex. The latex improves durability and breathability to ensure grip in wet conditions.
They have a wide range of applications and can function as multipurpose gloves.
They have excellent abrasion resistance.
The gloves are machine washable without getting spoiled.
Categorizing the extreme cold weather work gloves
If your work exposes you to toxic chemicals, you should choose your glove for cold weather wisely.
One glove does not work for all chemicals. That means the choice of work gloves to choose is dependent on the type of chemicals you want to prevent from touching your skin.
Let's consider a few examples of work gloves you can consider buying for cold weather:
Butyl Rubber: Chemicals such as esters, acids, ketones, aldehyde, bases, nitro-compounds, peroxides, and so on are prevented from harming the skin by butyl rubber gloves. When abrasion, oxidation, cold, ozone corrosion are protected, butyl rubber gloves are ideal.
Natural Latex Rubber: Salts, dilute acids, alkalis, and so on can be prevented from harming the skin with natural latex rubber. Where tensile strength and elasticity matter, natural latex rubber gloves are a perfect choice. You can use natural latex rubber gloves during cold weather to prevent your skin from high temperature and abrasion.
Neoprene: You can prevent hydraulic fluids, alcohols, organic acids, and so on from getting in contact with your skin with neoprene gloves. Neoprene gloves have a high density responsible for their finger high dexterity work gloves and are more pliable than other types of gloves. Neoprene gloves help against wear and tear caused by friction and prevent chemicals from harming the skin more than latex gloves do.
Nitrile Rubber: Nitrile rubber gloves give the best results in mastery of use, durability, and sensitivity.
What to Look at Before Buying Waterproof Work Gloves
Now that you are ready to buy your waterproof work gloves, what are the necessary factors to consider?
Type of Work
You know that different gloves are tailored towards performing various functions. Hence, the first thing to determine before purchasing your waterproof gloves is the work with the gloves.
For example, if your work exposes you to the danger of cuts because you use a knife or any other sharp object, then you will need a cut-resistant glove. Cut-resistant gloves will protect your hands from being punctured as you work. Also, abrasion will be resisted by cut-resistant gloves.
Again, if your work relates to lifting heavy objects, then cut-resistant gloves will be of no use to use. In that instance, palm-coated gloves will be a good option for you to consider.
The two examples above explained gloves that are specific in function. Some jobs require using multi-functional gloves. Hence, the choice of waterproof work gloves starts with the awareness of the work to be done with such gloves.
Breathability
Gloves' breathability relates to the versatility of the glove when you consider general weather conditions and temperature. Gloves' breathability has a relationship with gloves' waterproof ability.
If a glove is a hundred percent breathable, it has zero water-resistance capacity. Equally, a glove that has a hundred percent water-resistance capacity is zero percent breathable. Example of a hundred percent water-resistance gloves is rubber gloves.
So, it would be best if you asked yourself the percentage breathability you want for your gloves. Once you have clearly outlined the breathability level you want for your glove based on your work, you can then go ahead and make a purchase of it.
Waterproofing
Waterproof gloves are suitable if you want to prevent water, snow, ice, or any other wet substances from touching your hands. Waterproof gloves are either made of PVC or silicone.
Some gloves only have their outer part prayer with silicone or PVC. In that instance, the gloves cannot be regarded as waterproof but water-repellant. Water-repellant gloves lose their water resistance capacity once the outer coating wears off.
Yes, it is cheaper to get water-repellant gloves than waterproof gloves. Also, if you want to keep water away completely from touching your hands, you might consider getting waterproof gloves rather than water-repellant gloves.
Dexterity and Touchscreen Compatibility
If your work is technology-related, you might want to consider buying a touchscreen-compatible glove. Also, if you'd love to press your phone with your gloves on, you might consider purchasing a glove with fingertips that have a touch-sensitive pad.
Material
Each glove has unique and peculiar functions. The value you get from a glove is dependent on the materials used to make the glove.
For example, if you need an agile and flexible glove, you might consider using a glove made with nitrile or coated with nitrile. If what you want is a cheap and soft glove, you might consider buying cotton gloves. You will get a durable and rugged feel from a leather glove.
Hence, you need to know the type of feel you desire from your cloves to know the same material to opt-in for a while making your purchase.
Fit
Size is an excellent factor to consider in your choice of waterproof gloves to buy. For optional comfort and performance, you need a glove that fits you quite well.
Most work gloves available in the market have different sizes, from small through extra-large.
To know the glove size that fits you well, follow the instructions below:
Get a measuring tape and wrap it around the widest part of your hand but exclude your thumb. Take the measurement and ensure it is in inches.
Once the measurement is taken, compare the size with the available standard provided when making your glove purchase.
Price
What determines the price of the work gloves is the materials from which they are made. Gloves with thick and durable materials are more expensive. Hence, you can judge why similar gloves with similar designs might not have the same price.
Also, most expensive gloves stay longer than the cheaper ones before they require replacement. Hence, your preference and your pocket matter most in determining the price range of the gloves to buy.
If you are low on budget, you will not choose your gloves according to their functionalities. The more functional and durable a glove is, the more expensive it is to buy. You can watch out for coupon codes to get a discount on whichever gloves you want to buy.
Color
Another thing to consider before buying work gloves is the color. We all have our favorite colors. More than being a preference factor, color serves some essential purposes as well. For example, you will need a brightly colored glove if you work at night or if your working environment is hazardous.
Colors such as yellow, lime, or orange will make you unique and stand out while you do your work.
Seasonality
Work gloves are not appropriate throughout the year. Some are mostly needed during the cold weather season to keep the hands warm as you work. Others are appropriate in other seasons of the year.
So, you need to figure out the appropriate gloves to buy for the current season of the year. For example, lighter and breathable gloves are better for summer to ensure maximum comfort.
However, you might consider thicker work gloves for cold weather. Hence, knowing the best gloves to buy for a particular season will help you make the right buying decision.
FAQ
How do I keep my fingers warm in work gloves?
The best way to do that is to wear thermal work gloves. Ensure that the gloves you wear are made of excellent insulating material that effectively traps warm air between the outside of your hands.
Are leather gloves warmer than wool?
Leather is not necessarily warmer than wool. However, leather has heat absorption characteristics that make leather an excellent choice for outdoor activities especially functioning as snow and windproof.
Wool, on the other hand, has latent insulation properties.
What material is warmest for work gloves?
You might consider buying wool gloves during winter to get the maximum warmth you desire.
What are the best gloves for handling concrete blocks?
Gloves that are coated with polyurethane (PU) are good for handling concrete blocks. This is because PU gloves have high abrasion resistance for concrete works and other tough similar construction works.
They are for heavy-duty use which is reusable and of excellent quality.
What are the best work gloves?
There is no direct answer to this question because a lot of factors must be considered in order to come to a conclusion. Two important factors to consider include the work to be done and the season of the year.
Good Bye Words
I hope you now have an idea of which gloves to buy for the cold weather. You can post your questions and comments. Thank you.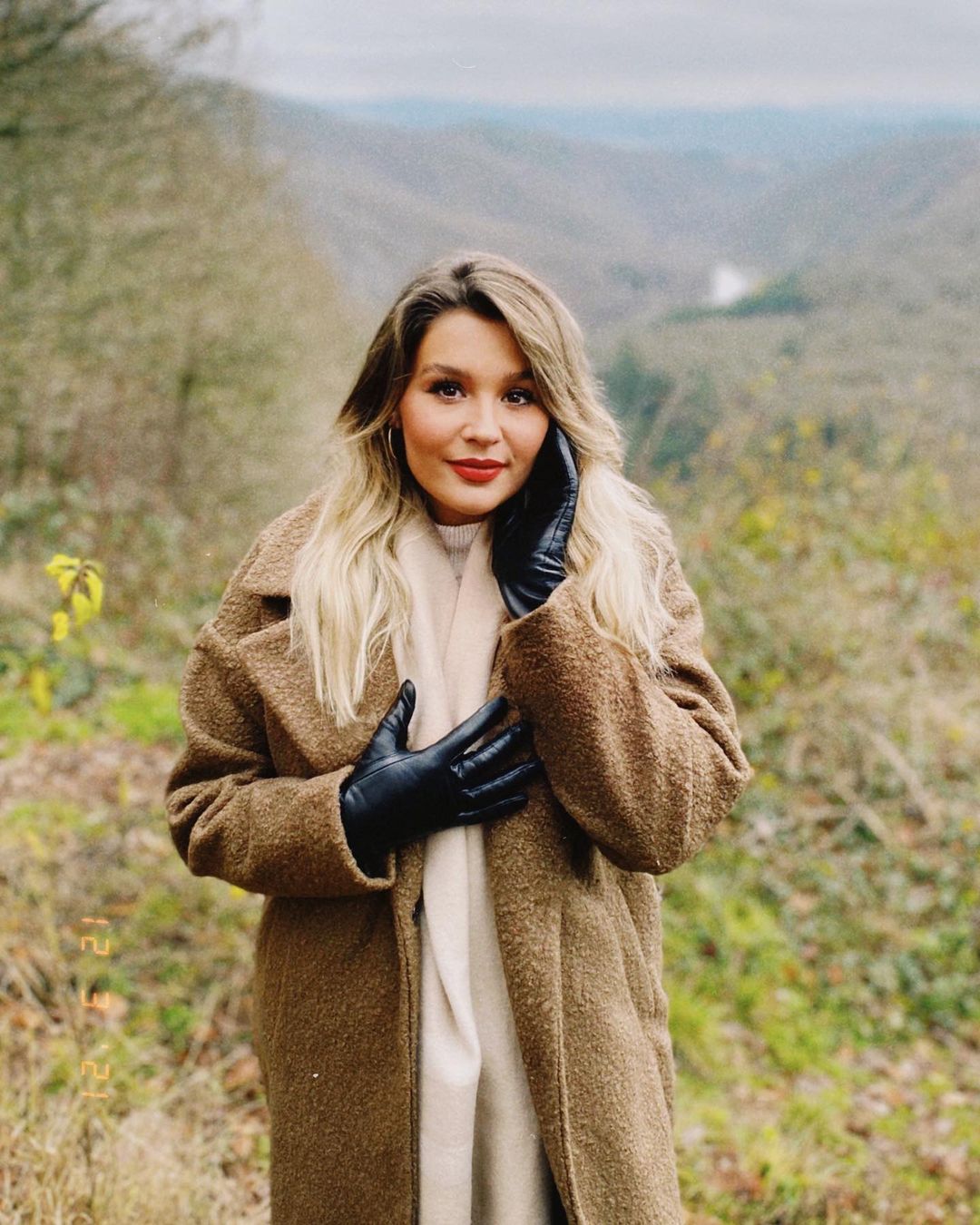 I am not a good blogger but I started blogging when I was in my college. one day scrolling my social media pages and top of the page one notification was coming like this " earn money from blogging".then I clicked that notification. After that, I was confused that which niche is better for me. Finally, I selected the niche and I was comfortable with that glove's reviewer.