Are you inspired and plan to become the next Mike Tyson or is it Floyd Mayweather that drives you towards boxing? With the list of best gloves for heavy bags and some tips and tricks we have here for you, you can easily find the answers to all your queries. Let's dive into the depths of the world of gloves for heavy bag training!
How to Opt for Heavy Bag Gloves for Beginners?
It becomes quite challenging to pick gloves for heavy bags for beginners, especially with so many brands and sizing options available in the market. Choosing the reliable and most functional gloves can become quite challenging, but finding the best gloves for a heavy bag  for beginners can be a little trick. We have curated for you easy ways to cho the best boxing gloves for beginners. Let's find out!
Safety First!
As a beginner when choosing the right boxing gloves keep in mind that safety is priority. Choosing the gloves that have proper padding is important, this will protect your fists and wrists during activities that may have a high impact. Finding the best beginner gloves for heavy bags is important because they impact performance as well. The safer you are the better and confident you feel and hence end up doing good. It is important to understand the size, various types of gloves, weight and even the brand especially as a beginner to make the right decision. 
Weight of the Gloves and Which one is Good for You:
You have an idea till now that heavy bag gloves for beginners come in a lot of different sizes and weights. Keep in mind that the weight of the gloves used for boxing is measured in ounces and may range from 10oz to 20 oz. Whereas the sizing of the gloves depends solely upon the padding that you can inside the heavy bag gloves for beginners.
But at the same time having an extra layer of protection may result in the speed of the punches going down. So if you are a beginner looking to train in terms of speed, get lighter gloves. But if you want to train in terms of strength, heavier gloves will be ideal!
Recommended Size for Beginners:
The best boxing gloves for heavy bag beginners are large gloves. These are recommended in the start to protect beginners against any hand, knuckle, or wrist injury. But as time increases and so does the skill level, boxers usually prefer using the lighter gloves. Keep in mind your boxing gloves should feel very comfortable but at the same time have the right fit. Your fingertips should easily set above the gloves while your wrist wraps are on.
Why Do We Need Heavy Bag Gloves with Wrist Support?
Heavy bag gloves with wrist support are a must-have for all heavy bag enthusiasts. These gloves are designed to provide the necessary protection and protection to your wrists while also offering you a good grip on the bag. They come in multiple shapes and sizes and are suited for everyone. 
The heavy bag gloves with wrist support are not just for beginners, they can be used by anyone who wants to get the most out of their heavy bags. They help you maintain your focus and strength while also providing you with the proper safety measures. Get the best heavy bag gloves with wrist support now from the list we have curated below for you to pick from. 
Choosing the Best Heavy Bag Glove for Women (in terms of size)
When it comes to choosing the best heavy bag gloves for women especially in terms of size there are a few things you need to know. Starting off with the weight and the ounce of gloves required. 
Women in the range of 100-125 pounds can use 10oz gloves perfectly. 

Women who have a weight in 125-150 pounds can use the 12 oz gloves. 

And women who are over 150 pounds are advised to use the 14 oz gloves. 
8 Best Gloves for Heavy Bag
1. Title Gel World Bag Gloves 
Title Gel Bag Gloves are known to be top of the line boxing gloves used for heavy bag training. The gloves will give you the right protection and are known to be quite superior when it comes to hand and wrist support. They can also be an excellent choice for professional boxers. You can find them in the following sizes such as  S, M, L, XL, XXL. If you want options in terms of color then you have Black,red and pink to select from. The outer is made of all leather and the weight of the heavy bag gloves is approximately 16 oz.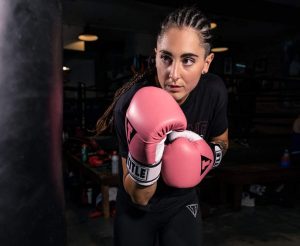 Pros
They have an excellent leather outer which is sturdy. 

Can be secured around the wrists conveniently.

They have an outstanding design and a proper fit.

Perfect for boxing training,  best for heavy bag training, and MMA.
Cons
They are expensive but are a professional gear 

It takes some time for the gloves to dry

People who are lighter may think the gloves are heavy. 
2. Cleto Reyes Training Gloves 
Cleto Reyes Gloves are quite durable, and made from full-grain leather. They are enforced with double stitching, and are shaped in a way allowing your hand to flex easily. You can find them in 10 plus colors, and have easily adjustable straps on the wrist. You can find them in 12oz, 14oz, 16oz, and 18oz which is a pretty good size range!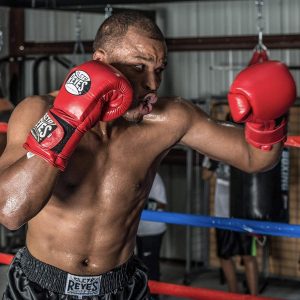 Pros
These gloves are cushioned and have the right fit. This makes them safe to use.

You can easily take them off and put them on pretty easily. 

They have a beautiful and durable design to match. 

They have a range of good colours and sizes. 
Cons
They are costly  

May not be the ideal gloves for beginners because of their heavy weight. 
3. Hayabusa Boxing Gloves T3
With 14 colors and 5 sizes to opt for from including 10oz, 12oz, 14oz, 16oz and 18 oz. These are the best weight boxing gloves to use for heavy bag training session. These boxing gloves deserve the highest rating for the advanced designs and for providing ample amount of protection. The T3 gloves have a good fit and ergonomic design, good for sparring heavy bag training and an excellent choice for beginners too. 
Pros
They are excellent and keep your hands protected from harm's way. 

Good for beginners and experts both.

Come with a good range of colors. 

Finely shaped and comfortable to move. 
Cons
The price is obviously higher because the product ticks multiple boxes. It's recommended for those looking for a long lasting set of gloves. 
4.  Everlast Elite Pro Style Training Gloves
Calling out to those looking for good Everlast bag gloves, this ones for you. Made out of premium leather and comes in multiple colors. You can get these in sizes: 8, 12, 14, 16oz.
Pros
One of the best heavy bag gloves with wrist support, and best boxing gloves for heavy bag beginners.

Intuitive and has multiple sizes of gloves 

Is affordable in terms of prices. 
Cons
These are not appropriate for advanced or pro athletes.

Takes time to put on and take off. 
5. Everlast Neoprene Heavy Bag Gloves 
Another good option for people looking for the best heavy bag gloves for beginners. You have one fit and can get the Everlast bag gloves in black. They are perfect for beginners and to make light punches as well as bag work. The gloves are 100% cotton jersey material.
Pros
Has an adjustable and durable material 

It keeps your hands pretty dry

They are low-priced 

You can practice as a beginner and work on your speed and light strokes. 
Cons
Isn't good for heavy punches 
6. Sanabul Gel Punching Gloves 
Made out of engineered leather, and available in approximately 5 plus colors. These Sanabul gloves are weight boxing gloves used for heavy bags, you can find them in 8, 10, 12, 14, 16 oz. 
Pros
They have an enhanced closure system which makes them convenient to use. 

Provide value for money

They are recommended by professionals. 
Cons
They cannot be used for martial arts
7. Ringside Heavy Bag Boxing Gloves 
These gloves are available in three sizes; small, medium and large. You can find them in more than 10 colors and in PU leather. They have a good shock-absorbing system and can deliver excellent blows, these are the best heavy bag gloves for beginners and best weight boxing gloves for heavy bag training.
Pros
These gloves are easy on the pocket.

Convenient to take off and put on. 
Cons
May get lose because of excessive usage 
8. Ringside Boxing Bag Gloves
The Ringside Boxing Bag Gloves are found in the genuine and faux leather both. The colors available are black, blue and red and are excellent when it comes to reducing the impact of knuckles and hands. You can find them in both large and regular sizes. 
Pros
They have an excellent fitting 

Easy on the pocket

Padded correctly making it very safe and comfortable.

Easy to use and have a good wrist wrap. 
Cons
Only two sizes available which isn't a plus. 
Heavy Bag Gloves Vs. Boxing Gloves 
Choosing the right equipment is essential whether you are an amateur or a pro boxer. When it comes to gloves, your options can be immense: MMA gloves to sparring gloves and bag gloves to boxing gloves. Here's your go-to comparison between heavy bag gloves vs boxing gloves.
Padding And Protection
While boxing gloves come with all-over padding for extra aid of the user, bag gloves come with lesser protection as they are designed solely for punching and boxing bags. Bag gloves are most suitable for people boxing with a lighter glove and quick changeovers, boxing gloves provide added protection especially during sparring as they provide ample coverage while blocking strikes and helps avoid injuries.
Size And Fit
Size and fit is also a major differentiator between bag gloves and boxing gloves. Bag gloves come in hand fits (small, medium, large, etc) while boxing gloves are commonly sized by their weights (8oz, 12oz, 16oz, etc). Kids ideally opt for 6oz which is generally the lightest weight whereas adults would usually utilize weights ranging from 10oz to 18oz according to their height and weight requirements.
Wrist Protection
Wrist protection is an essential element to aid in the stability of its users. Bag gloves usually come with a substantially lesser type of wrap compared with boxing gloves. Boxing gloves usually pack a hook and loop wrap, made of a solid material ie; leather or synthetic casing, which wraps around your entire wrist, providing stability while making it easier to put on and take off your gloves.
5 tips to find the best gloves for heavy bag training 
When packing a proper punch during heavy box training, it's important to have the right gear. That includes getting the right sized gloves. The following tips will help you in getting the right and good quality gloves to protect you and make boxing comfortable. Keep in mind that having the right size gloves impacts your performance too, so let's dive into the details and find out all that's important when choosing the best type of gloves for heavy bag training! 
When getting boxing gloves for heavy bag training make sure you get the ones that are the right fit meaning they snug to your hands. For all the fighters looking to get one, it's important to know what ounce glove you are looking for, they range from 60oz to 20oz. To know which one is the best for you, you will need three measurements:
 

Your Height 
Your Weight 
The circumference of your dominant hand (left if that is the one you use or right if use that the most)
Now comes the next step which is determining the circumference of your dominant hand, for this you may require: a fabric tape measure. By using this you can measure around your open dominant hand right below your knuckles. Keep in mind that your tape should meet right in the center of your palm to get the right measure and number. For all those who may not have access to a fabric tape measure can also use a loose string, wrap it around your hand and mark it. Now using a ruler or stiff measuring tape, measure the string to get the right number.  Make sure this is absolutely perfect to get the correct size of the glove. 

Now comes the part where you need to pick out the type of gloves you want, if you are choosing

boxing gloves, 14oz to 16 oz will be an all rounder

. You can use them for training, boxing and even sparring. They can also be used in competitions if you are willing! Getting good gloves is an excellent investment.

Boxing gloves have different usages, some need it for amateur boxing, some may need it for training and some may need it for pro fighting, Most of the fighters who belong to the welterweight class use the

10oz gloves for heavy bags

. Others belong to the

welterweight division or super heavyweight over the weight range of 201 lbs, 12oz gloves.

 All those who are aged 41 and above use 16ox gloves. 

Another helpful tip would be, those under and till

100 lbs

can get gloves from

6 to 8oz.

Those who are above

100 lbs and under 150 lbs

can get gloves under the range

8oz to 12 oz.

Those who are

above 150lbs and under 175lbs

can get gloves in the range of

12oz to 16 oz

. And finally those who are

above 175lbs

, can get gloves in the following measurement category

16oz to 20oz

. 
All of these tips can be used to develop a general understanding regarding which gloves can be good or bad for you. These will help you in choosing what gloves for heavy bags are right and what aren't. So before getting the best gloves for a heavy bag go through the manufacturer's size chart to make the best decision. 
Wrapping and Protection For Heavy Bag Boxing 
Getting the best boxing gloves for heavy bags with wrist support or the best boxing gloves for heavy bag beginners isn't the only thing that you should be doing. Another factor that plays a major role in the protection of your hand is wrapping, this ensures your hand is properly wrapped and your knuckles are protected from getting hurt. To learn the best technique for wrapping and protection for heavy bag boxing keep reading!
How to Wrap and Protect Hands for Heavy Bag Boxing
The following are the steps that need to be followed to ensure a smooth wrapping and protection for heavy bag boxing. Let's dig in!
Start with your thumb and make a loop, then cover the back of the wrist too. 

Make sure you go underneath your wrists at least thrice. 

Then you can start by circling around your wrist then again cover your thumb to make sure your joint is properly protected and then go around once more. 

Now start going between every finger, ideally begin with the little finger then move onto the ring finger and then keep going back towards the pointer finger. Make sure you place the tape on your palm properly to make a good base, and especially your little finger too. 

Then go forth on your knuckles, and over the back of your hand. Make sure you cover your hand at least twice or thrice times to ensure your fists stay protected and safe. 

Now end by creating an X on the back of your hand, in the meantime keep going down to your wrist. 

End the process by covering your wrist and locking down. 

Now tighten your hand wrap using a velcro which will be very helpful in avoiding any loosening. 
These 8 wrapping and protection for heavy bag boxing will safeguard from you an injury, especially for all those people who are professional fighters. So many people have a career-end if they don't protect their hands properly. Even beginners need to cover their hands because they need to feel the punches lightly, so punches aren't painful. 
FAQ
What kind of gloves do you use for a heavy bag?
When boxing using a heavy bag, it's important to use bag gloves. They are the most suitable when it comes to boxing on heavy bags. These gloves are made to withstand the impact of the bag, and don't worry because they won't get torn at all.  
Are 10oz gloves good for a heavy bag?
One of the most popular size gloves that are good for heavy bag boxing are the 10oz gloves. The size of the glove tells us how much padding is inside it. The heavier the weight of the gloves the more protected your hands will be but at the same time it will also slow down the speed of your punches. 
Are 8 oz good for a heavy bag?
The 8oz gloves are the perfect fit for all those looking to get the right sized gloves. But if you do plan to get the 8oz gloves for your heavy bag boxing then make sure to use a hand wrap around your knuckles for extra care and protection. But at the same time avoid using these gloves for sparring with another individual, for that you may need heavier gloves. 
Is it ok to use MMA gloves on a heavy bag?
A misapprehension that people may have is they can use MMA gloves on heavy bags, you can't! MMA gloves are designed differently and the gloves designed for the usage of heavy bags are comparatively padded thickly and offer a good hand for the person using. You can also find heavy bag gloves with wrist support as well as knuckle protection. 
What ounce gloves do pro boxers use?
The pro boxers also known as professional boxing gloves can be used in pro fights. The ounce required for pro fights is 8 and 10 oz. 
Conclusion
You now know all the details regarding boxing gloves, and what goes behind choosing the best ones. With this guide, you can make informed decisions regarding your boxing gloves based on your needs and requirements. Get Started!